Ford Expects Bronco To Hit 200,000 Units In 2021: Here's When It Will Be Released
Ford (F) has teased the release of the upcoming Bronco 4x4, but when the automaker would be finally revealing the vehicle has been somewhat of a mystery. After a meeting with dealers, more information has been shed from Ford about when consumers can expect to see the Bronco and start making purchases.
According to Automotive News, Ford met with its dealers at the National Automobile Dealers Association in Las Vegas, telling them that the Bronco 4x4 will debut in March followed by the Bronco Sport – a smaller variant of the 4x4 – in April, possibly at the New York auto show.
Ford dealers were also told that sales of the Bronco are anticipated to hit at least 200,000 units in 2021 as the company looks to compete with demand for the Jeep, the news outlet reported.
In addition, dealers were told to expect a family of Bronco vehicles that will reportedly include both two-door and four-door versions, as was speculated in previous reports, as well as a cadre of accessories for the 4x4 as Ford looks to ramp up sales for the vehicle.
Until now, Ford has been tight-lipped about the release of Bronco, which is thought to be the next important launch for the automaker behind the all-electric Mach-E. A teaser video has been released, and sightings of the Bronco have been captured, but no official word has been released from Ford publicly.
The Bronco Sport is reportedly expected to go on sale in late 2020 with the Bronco 4x4's availability beginning in early 2021.
Shares of Ford stock were down 0.73% as of 3:33 p.m. EST on Tuesday.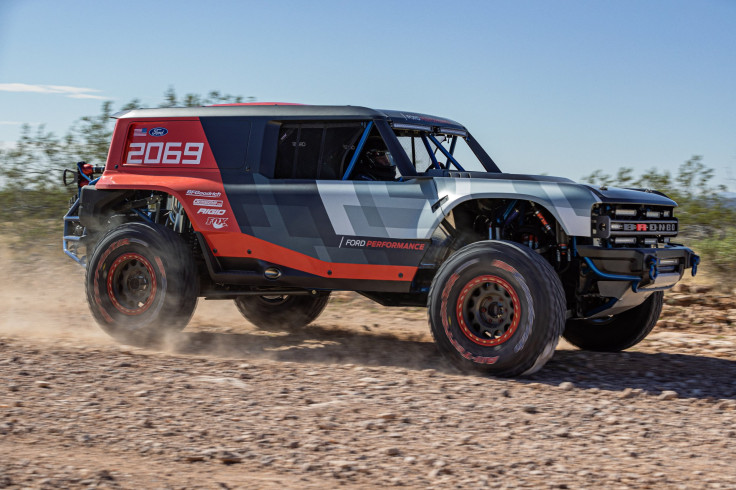 © Copyright IBTimes 2023. All rights reserved.