Ford Motor (F) Is Almost Tied With General Motors (GM) In US Auto Sales; It Has Only Beat GM Four Times In The Past Two Decades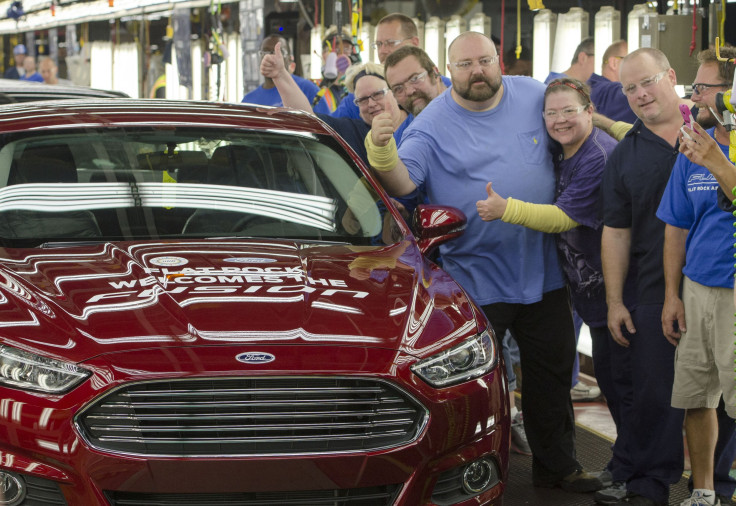 General Motors Company (NYSE:GM) is the undisputed volume sales leader of U.S. auto largely because it's simply a bigger carmaker, with four competitive brands in the marketplace, Chevrolet, Buick, GMC and Cadillac. Ford Motor Company (NYSE:F) is comprised of the Ford brand and its small luxury division, Lincoln. Meanwhile, Chrysler isn't even in the top three; that honor goes to Toyota.
But last month Ford sold only 2,049 fewer cars and light trucks than GM (185,146 units), putting it in a virtual tie with North America's largest automaker, at least for the time being.
Two things have been working in Ford's favor this year, the first being strong demand for some of its cars, especially the Focus compact, Fusion full-sized sedan and Fiesta mini, and a couple of its SUVs: the Escape compact crossover and the Explorer SUV.
The second thing: GM is facing some supply bottlenecks on strong demand for its pickup trucks. It's also shifting production to the third-generation 2014 GMC Sierra and Silverado pickup trucks, a process that will be completed in the first quarter of next year. The GM supply constraint is likely to continue in the short term, so Ford has a shot at outselling GM in October. If this happens it will be only the fourth time the company has outsold GM on any given month since at least 1991, according to data provided by auto pricing and information provider Edmunds.com.
Two of those months were consecutive, with a considerable margin between the performances of the two companies. In July and August of 1998, Ford sold nearly 75,000 and 50,000 more vehicles than GM. That summer GM was grappling with an eight-week strike by the United Automobile Workers union at two key auto parts factories that shut down the company's North American production. The strike was settled in early August of that year, so a lot of sales that summer went to Ford.
The other two months Ford outsold GM were more recent, and close: In February 2010, Ford sold 603 more vehicles than GM, a margin so close that it was basically a tie. Then in March 2011, Ford sold nearly 6,000 more vehicles than GM.
On a typical month, GM sells about 82,000 more cars and light trucks than Ford, according to an average of all sales between the two auto giants from January 1991 to August 2013. In that period of time, GM sold an average of 347,000 units a month, while Ford sold an average of 265,000.
Ford typically competes with Toyota for the No. 2 slot in U.S. auto sales.
© Copyright IBTimes 2023. All rights reserved.