Former Rival Herman Cain Endorses Newt Gingrich for President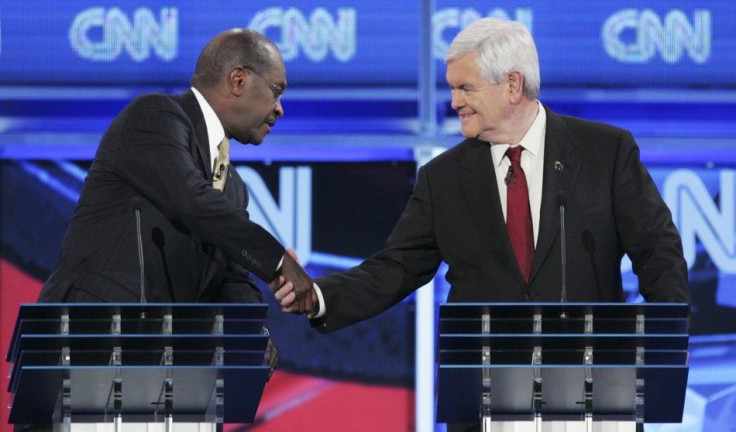 Republican presidential candidate Newt Gingrich received the endorsement of former opponent Herman Cain on Saturday, and he vowed to fight until the end no matter what happens in Florida's primary election on Tuesday.
Cain, who abandoned his own presidential campaign in December under the weight of sexual-harassment allegations, made the endorsement at an event with Gingrich in West Palm Beach. It is unclear how much impact it will have for Gingrich in Florida, which has been trending toward rival Mitt Romney ahead of the state's vote on Tuesday.
I hereby officially and enthusiastically endorse Newt Gingrich for president of the United States, Cain said.
Romney, already confident after strong performances in two Florida debates, is gaining ground over Gingrich for the nomination to take on Democratic President Barack Obama in the Nov. 6 election.
Cain said Gingrich has been going through a sausage grinder in his battle for the Republican nomination.
The former pizza magnate has been seeking to remain in the public eye after his presidential drive stalled out. Recently, he had declared he would endorse the people. Both Cain and Gingrich are from Georgia.
Three days ahead of a pivotal primary race that could determine who has the momentum to win the Republican state-by-state nominating battle, Gingrich and Romney spent the day traveling around Florida in a search for undecided voters.
A Reuters/Ipsos online poll released on Saturday showed Romney, a former governor of Massachusetts and off-and-on Republican front-runner, with an 11-percentage-point lead over Gingrich, compared with an 8-point lead a day earlier.
Among likely voters in Florida's primary on Tuesday, Romney attracted the backing of 43 percent, and Gingrich drew the support of 32 percent. That compared with a 41 percent to 33 percent showing in the online tracking poll on Friday.
'All the Way to the Convention'
Gingrich, stung by what he considers unfair attacks from Romney, told reporters in Port St. Lucie that no matter the outcome in Florida, he will keep battling until Republicans formally nominate their candidate at a convention in Tampa in late August.
I will go all the way to the convention. I expect to win the nomination, Gingrich said. You just had two national polls that show me ahead. Why don't you ask Governor Romney what he will do if he loses since he is behind in both national polls?
Gingrich's vow appeared aimed at reassuring his supporters that he will not buckle should he lose Florida. If he were to follow through with his threat, it would guarantee a months-long, divisive fight at a time when party leaders will want unity to focus on Obama.
Former U.S. Sen. Rick Santorum of Pennsylvania, running behind Romney and Gingrich, canceled campaign events in Florida for Sunday morning after his 3-year-old daughter, Isabella, was admitted to a hospital in Philadelphia.
Santorum intends to return to Florida and resume his campaign schedule as soon as possible, representative Hogan Gidley said.
Romney needs a victory on Tuesday to regain his footing after losing badly to Gingrich in the South Carolina primary last weekend, when the third nominating contest was held.
Gingrich, former speaker of the U.S. House of Representatives, needs a Florida win to solidify the front-runner mantle he took on after his South Carolina victory.
If we win Florida, I will be the nominee, Gingrich declared at a golf facility in Port St. Lucie.
Romney has gained momentum in recent days, however, and the former private-equity executive used that -- and his financial muscle -- to draw up a closing argument that Gingrich's behavior in Congress made him unfit to be the Republican Party's leader.
In a simple ad titled History Lesson -- a play on Gingrich's background as a historian -- Romney's campaign showed footage of an NBC television anchor's news report the day Democrats and Republicans found him guilty of ethics violations in 1997.
Newt Gingrich, who came to power, after all, preaching a higher standard in American politics, a man who brought down another speaker on ethics accusations, tonight he has on his own record the judgment of his peers, Democrat and Republican alike, anchor Tom Brokaw says in the report, which makes up the entire ad.
Gingrich denies wrongdoing, and his campaign emphasizes that 83 of 84 politically motivated ethics charges against him were found to be without merit and dropped.
Controversy
The ad drew controversy from television network NBC, which asked the Romney team to remove the newscast material from the ad. Anchor Brokaw also voiced objections. I am extremely uncomfortable with the extended use of my personal image in this political ad. I do not want my role as a journalist compromised for political gain by any campaign, he said in a statement.
Romney's campaign said it was looking at the network's request. We just received the letter. We are reviewing it, but we believe it falls under fair use, said senior adviser Eric Fehrnstrom.
Fighting Romney over who is best equipped to beat Obama, Gingrich has boasted of carrying on the legacy of the late President Ronald Reagan, a hero to conservatives, while pushing for the anti-establishment support of the Tea Party.
I can run with a history -- not a theory, not a promise -- that we can create jobs by unleashing the American people, Gingrich told a pastel-clad crowd of golf fans at the PGA golf facility, criticizing Romney as not being a true conservative.
Over the course of the day, Gingrich appealed to groups he hopes will propel him to victory in Florida, holding events with country-club Republicans, Hispanics, and religious conservatives at a Baptist megachurch.
Don Brigham, 60, a golf pro from Port St. Lucie, said Gingrich's comments there helped him make up his mind about whom to support.
I was undecided, but I loved what I heard, he said. I was very impressed with his personality. It's a two-man race on the Republican side. I was very impressed with his message. He pretty much spoke to my political beliefs.
But Romney's strong performances in this week's debates -- venues that have usually favored Gingrich -- have resonated with more voters. That momentum fueled confidence in Romney, who mocked his rival for complaining about audience participation.
We've had about 18 debates so far, and they're getting more and more fun as time goes on, Romney said at one campaign event.
This last one, Speaker Gingrich said he didn't do so well because the audience was so loud. The one before, he said he didn't do so well because the audience was too quiet. This is like Goldilocks.
Also on Saturday, Santorum's campaign announced the opening of a headquarters in Nevada, the next state to hold a nominating contest after Florida.
Santorum won the first contest in Iowa, and Romney won the second in New Hampshire.
In Florida, Santorum was well behind his rivals in the Reuters/Ipsos poll Saturday with 16 percent support, up from 13 percent the previous day. U.S. Rep. Ron Paul of Texas in the same poll had 6 percent support, up from 5 percent the previous day.
© Copyright Thomson Reuters 2023. All rights reserved.