'Fortnite' Battle Royale Map's Giant Rift Is Already Shrinking
It's still the middle of season 5 of "Fortnite" battle royale, but it looks like the countdown for season 6 has already begun. Gamers have noticed that the giant rift in the sky on the battle royale map is very slowly shrinking, which is probably a signal that "Fortnite" season 5 will be coming to a close.
The giant rift first appeared at the tail end of season 4 when the rocket launched from the evil lair. The rift continually grew and it brought changes to the battle royale map when season 5 began. The rift dropped new locations like Paradise Palms, Lazy Links and the Viking area on top of the mountain in the western side of the map.
Now, eagle-eyed fans have noticed that the giant rift has begun shrinking. "Fortnite" leaker FNBRLeaks on Twitter speculates that the rift will completely close by Aug. 21 based on the rate on how it's been shrinking. The leaker also published a photo showing what the rift will look like on Aug. 18 or just three days before the rift completely closes.
This type of change is already expected from "Fortnite" and it follows a pattern on how Epic Games manages to bring in changes to the battle royale game. Introducing changes to "Fortnite" keeps that game fresh and it makes sure that people keep on playing. The strategy has worked so far and it continues to boost the popularity of "Fortnite."
"Fortnite" season 5 is just halfway through and there are still five weeks of challenges remaining. Game Rant speculates that Epic Games may be planning to host more in-game events as season 5 nears its end. It's also possible that Epic might begin dropping hints as to what season 6 will be about. Before season 5 began, Epic kept dropping random items on the map, like a giant anchor that teased changes to the map.
Season 5 of "Fortnite" still has a month before it officially ends, as pointed out by Eurogamer. Theories about season 6 have already been spreading online and some are already speculating that the rift might drop something before it completely closes. Another theory that's been floating around is that the rocket might make its return through the rift.
In other news, Epic Games has already confirmed that it will be bringing a new heavy sniper rifle to "Fortnite" battle royale soon and it will be available in Epic and Legendary variants. FNBRLeaks says the Epic heavy sniper rifle will be able to deal 150 body damage and 342 headshot damage. Meanwhile, the Legendary variant will be able to deal 157 body damage and around 355 headshot damage. A leaked video of the weapon in action also shows that the new heavy sniper rifle will be able to easily destroy structures.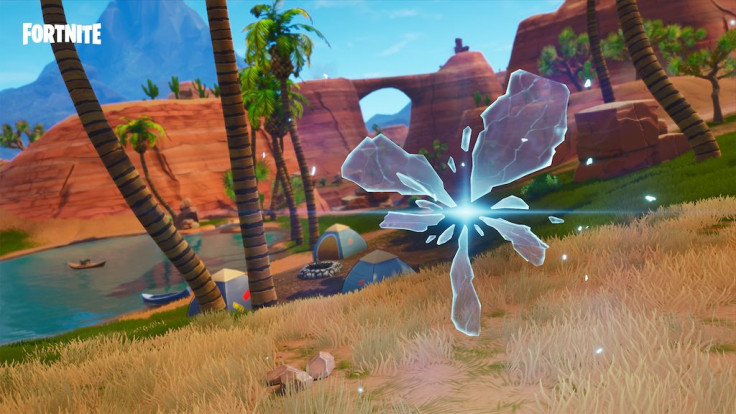 © Copyright IBTimes 2023. All rights reserved.