France and Germany Tell Greece to Take The Bailout or Else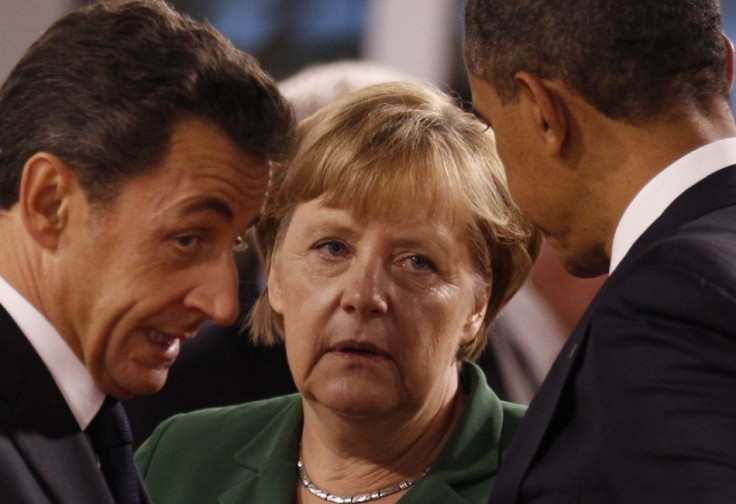 Amidst swirling confusion and chaos in the Greek government in Athens, the leaders of France and Germany have sternly warned Prime Minister George Papandreou that his country must accept terms of the rescue deal reached last week in Brussels or face grave consequences.
While Papandreou's immediately plans for his political future remain cloudy, one thing is for certain: if Athens doesn't receive the next tranche of £8 billion ($12.8 billion) from the European Union (EU) and International Monetary Fund (IMF), Greece will be unable to pay its public workers and perhaps trigger a devastating default.
In Cannes, France for the G20 summit, Nicolas Sarkozy, the president French president and Angela Merkel, the German Chancellor, warned that no more money would be forthcoming from the EU or IMF to Greece unless Athens passed the latest rescue package and instituted harsh spending cuts.
Our Greek friends must decide whether they want to continue the journey with us," Sarkozy said at a press conference.
We cannot commit European taxpayers' money unless the rules unanimously adopted in Brussels are respected to the letter.
At the same conference, Merkel posed: The referendum will revolve around nothing less than the question: does Greece want to stay in the euro, yes or no?
According to the Daily Telegraph newspaper of Britain, a source at the IMF said: The [IMF] board would not want to give money to Greece and then wonder what will happen. The board will want comfort that Greece will fulfill its commitments and right now Papandreou is unable to give that.
Meanwhile, a flurry of reports are emerging out of Athens that Papandreou agreed to scrap the referendum that would have put the rescue deal up to a vote for the Greek public, but that he would not step down.
Papandreou has been facing enormous pressure from both within his ruling socialist Pasok party and opposition leaders to call early elections and step down.
Complicating matters even further is that Papandreou has called a confidence vote for Friday to determine the fate of the Athens government.
© Copyright IBTimes 2023. All rights reserved.