Freed Nigerian Women Tell Of Horror Of Boko Haram Captivity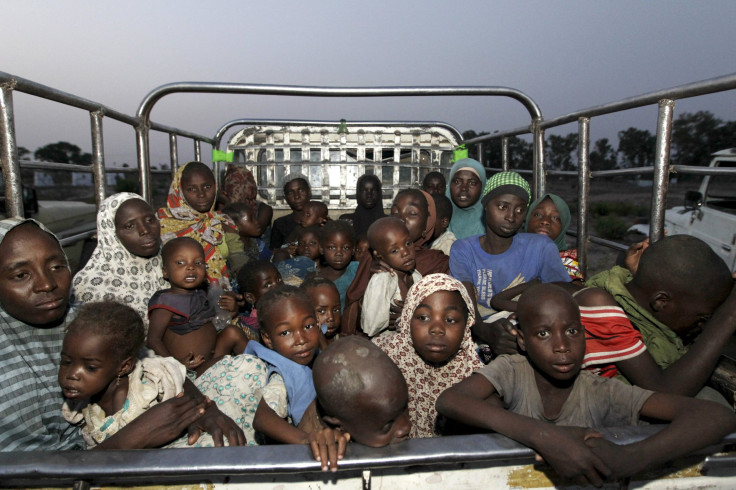 YOLA, Nigeria (Reuters) - Boko Haram fighters killed older boys and men in front of their families before taking women and children into the forest where many died of hunger and disease, freed captives said on Sunday after they were brought to a government refugee camp.
The Nigerian army rescued hundreds of women and children last week from the Islamist fighters in northern Nigeria's Sambisa Forest in a major operation that has turned international attention to the plight of hostages.
After days on the road in pickup trucks, hundreds were released on Sunday into the care of authorities at a refugee camp in the eastern town of Yola to be fed and treated for injuries. They have been able to speak to reporters for the first time.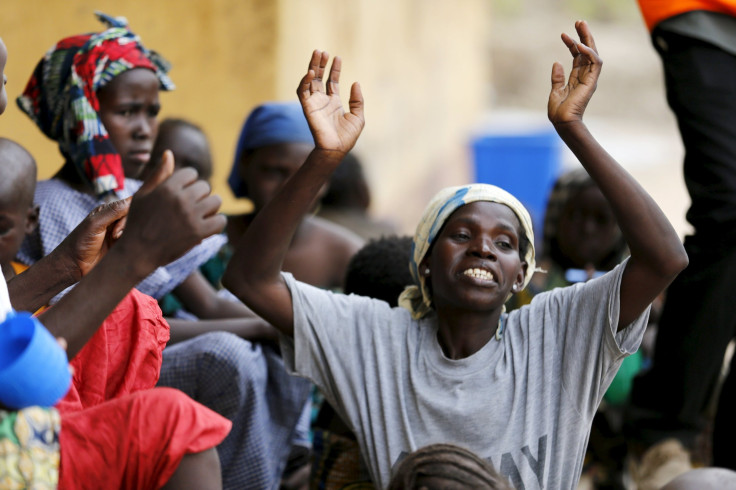 "They didn't allow us to move an inch," said one of the freed women, Asabe Umaru, describing her captivity in the forest. "If you needed the toilet, they followed you. We were kept in one place. We were under bondage.
"We thank God to be alive today. We thank the Nigerian army for saving our lives," she added.
Two hundred seventy-five women and children, some with heads or limbs in bandages, arrived in the camp late on Saturday.
Nearly 700 kidnap victims were freed from the Islamist group's forest stronghold since Tuesday, with the latest group of 234 women and children liberated on Friday.
"When we saw the soldiers we raised our hands and shouted for help. Boko Haram who were guarding us started stoning us so we would follow them to another hideout, but we refused because we were sure the soldiers would rescue us," Umaru, a 24 year-old mother of two, told Reuters.
The prisoners suffered constant malnutrition and disease, she said. "Every day we witnessed the death of one of us and waited for our turn."
Another freed captive, Cecilia Abel, said her husband and first son had been killed in her presence before the militia forced her and her remaining eight children into the forest.
For two weeks before the military arrived she had barely eaten.
"We were fed only ground dry maize in the afternoons. It was not good for human consumption," she said. "Many of us that were captured died in Sambisa Forest. Even after our rescue about 10 died on our way to this place."
The freed prisoners were fed bread and mugs of tea as soon as they arrived at the government camp. Nineteen were in hospital for special attention, Dr. Mohammed Aminu Sulieman of the Adamawa State Emergency Management Agency told Reuters.
Chibok Girls
Amnesty International estimates the insurgents, who are intent on bringing western Africa under Islamist rule, have taken more than 2,000 women and girls captive since the start of 2014. Many have been used as cooks, sex slaves or human shields.
The prisoners freed so far do not appear to include any of more than 200 schoolgirls snatched from school dormitories in Chibok town a year ago, an incident that drew global attention to the six-year-old insurgency.
Umaru said her group of prisoners never came in contact with the missing Chibok girls.
Nigerian troops alongside armies from neighboring Chad, Cameroon and Niger have won back swathes of territory from the fighters in the last couple of months.
Last year, the group exerted influence over an area bigger than Belgium. But a counter-attack launched in January has pushed them into Sambisa, a nature reserve. While the Nigerian army is confident it has the group cornered, a final push to clear them from the area has been curtailed by landmines.
President Goodluck Jonathan, who relinquishes power later in May after his election defeat to Muhammadu Buhari, has promised to hand over a Nigeria "free of terrorist strongholds".
Rampant corruption and a failure to stamp out the uprising in the north were factors that cost Jonathan the election won by Buhari, a former military ruler.
© Copyright Thomson Reuters 2023. All rights reserved.