G-20 Summit 2012: EU's Reputation At Stake During Mexico Gathering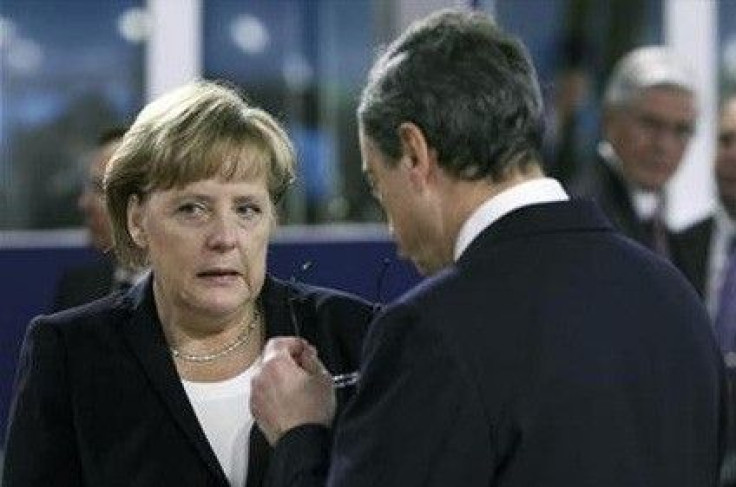 Unsurprisingly, next week's G-20 meeting is set to be dominated by Europe's lingering debt crisis. As the leaders of the world's 20 most important economies settle down in Los Cabos, Mexico, on Tuesday, expect delegates to focus on little else.
As the euro zone lurches from crisis to crisis, the spotlight is set to fall on Chancellor Angela Merkel as world leaders look to Germany to take a lead.
Merkel, one of the principal architects of European austerity, faces a rough time from world leaders keen to inject growth into the stalling European economies. European leaders advocating growth agendas have been bolstered by the election of Socialist French President Francois Hollande, the self-styled anti-austerity standard bearer.
U.S. President Barack Obama, who has also repeatedly called on European leaders to do more to end the cascade of bailouts and threatened collapses, is sure to press Merkel to take a more rounded approach.
But in her final speech to the German Parliament before departing for the Mexico, Merkel took a combative tone and argued for continued fiscal discipline.
We must all resist the temptation to finance growth again through new debt, she said.
We can only overcome the crisis when we tackle it at its roots, the high debt level and the lack of competitiveness in some member states.
Before the meeting even starts, however, the landscape could have changed irrevocably. With Greece set to go to the polls for a second time in two months on Sunday, a victory for anti-bailout parties there would not only hasten their exit from the euro, but also plunge the entire euro zone into its most serious crisis to date.
And as if that wasn't enough, Brussels also faces a tough test in the eyes of increasingly anxious world leaders. According to several political commentators, Europe is at risk of losing its place at the top of the G-20, as its piecemeal approach to sorting the sovereign debt crisis appears to be failing on all fronts.
The world knows Europe cannot go on bailing out each country in turn forever, and, without a unified approach to the problem, the perception of the EU as a coherent and relevant intergovernmental body is at stake.
Globally, the G-20 meets amid a plethora of depressing economic data. Business surveys in many countries point to slower-than- predicted growth from earlier in the year, and in the U.S., a run of positive labor market data has dried up, leading to speculation the American recovery has stalled.
What we can expect from the G-20, at least, is an announcement to bolster the finances of the International Monetary Fund -- something that was confirmed two months ago anyway. In April, the IMF confirmed it had received promises for an extra $430 billion in the form of bilateral loans, more than doubling the fund's useable capacity to $800 billion.
As London-based Capital Economics noted, this puts the combined IMF/ EU stability fund-lending capacity at around €1.1 billion ($1.4 billion), more than enough to cover a full bailout of either Spain or Italy.
Ultimately, the world's key economic challenges need to be tackled by nation states and notably by euro zone governments, Capital Economics noted.
The G-20 therefore has little chance of making a breakthrough at Los Cabos.
© Copyright IBTimes 2023. All rights reserved.