G20 progress not fast enough: Obama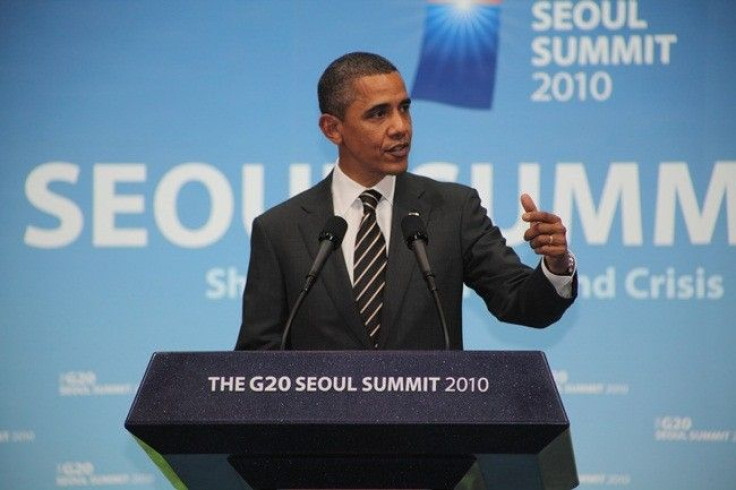 U.S. President Barack Obama said the G20 economies have been successful in putting the world economy back on the path of recovery, but admitted that the progress was not fast enough as expected, especially in creating more jobs.
Speaking to the press after the release of the G20 final communique in Seoul on Friday, Obama underscored the need for an optimistic future about the world economy, without which, he said we risk slipping back into the old imbalances which created the economic crisis in the first place.
On capital account surplus countries, he said the focus on balanced and sustained growth should drive the growth of the economy.
Countries with large surpluses must shift away from unhealthy dependency on exports, he said.
He also reminded other nations that exports to the U.S. should not be assumed as a quick path to prosperity.
No nation should assume that their path to prosperity is paved simply with exports to the United States -- repeating a similar point made by Treasury Secretary Timothy Geithner in the last summit in Toronto when he said the U.S. consumer cannot absorb the world's exports anymore.
On exchange rates, he said currency should reflect economic realities and cited China's case saying, It is undervalued. And China spends enormous amounts of money intervening in the market to keep it undervalued. So we've said it is important for China, in a gradual fashion to transition to a market-based foreign exchange system.
In a market-based currency exchange system, everybody benefits from trade rather than just few countries, said the president and expressed his hope that China would make progress on the issue.
We understand that this is not solved overnight, but it needs to be dealt with and I'm confident that it can be, he said.
We have made enormous progress -- is how the president summarized the outcome of the Seoul summit.
The work that we do here is not always going to seem dramatic. It's not always going to be immediately world-changing. But step by step what we're doing is building stronger international mechanisms and institutions that will help stabilize the economy, ensure economic growth and reduce some tensions.
Obama, whose 10-day visit began with India where he secured $10 billion worth deals and more than 54,000 jobs created, showed his tough stand on bilateral trade pacts even with allies.
Referring to a delayed bilateral trade pact with the G20 host South Korea, Obama said the trade pact should not be pushed just to meet the deadlines of summits or meetings. He said he needs extra time and that he is not interested in making an announcement just to send a signal of success. He was clear that every such pact can, and must, be a win-win deal for the United States.
On Iraq, the president quickly pointed out that the formation of the government in Baghdad after an eight-month deadlock was a milestone and hoped the new government of Prime Minister Nouri al-Maliki would be more inclusive of all the groups in the war-hit country.
On domestic issues, the president said, I'm not going to negotiate here in Seoul on those issues, but I've made very clear what my priorities are.
But he was quick enough to add that the Bush era tax cuts at home will not go up for middle-income families next year. I want to make sure that taxes don't go up for middle-income families. That's my top priority, he noted.
He refused to comment on the Federal Reserve's decision to print $600 billion in new money as the Fed was an autonomous body.
© Copyright IBTimes 2023. All rights reserved.
FOLLOW MORE IBT NEWS ON THE BELOW CHANNELS