G7 Summit: World Leaders Pledge $20 Million Aid To Combat Amazon Fires
According to French President Emmanuel Macron, the world leaders who are attending the ongoing G-7 summit in France have agreed on a $20 million aid package to help fight the fires that have ravaged the Amazon rainforests.
The G7 countries have agreed on an immediate $20 million package to help Brazil and other Amazon countries tackle the wildfires and also launch a long-term global initiative to protect the rainforest.
In a joint press conference with Chilean President Sebastian Pinera, Macron said that the leaders had pledged to support to fight the wildfires in Amazon and they were also studying the possibility of offering similar support to Africa, whose rainforests too have been suffering from wildfires.
U.S. President Donald Trump, U.K. Prime Minister Boris Johnson and German Chancellor Angela Merkel have offered their assistance to combat the fires that still continue to rage in the Amazon. Macron said that though President Trump skipped the Monday morning session on the environment, the U.S. still supports the initiative to aid the Amazon countries.
Brazilian President Jair Bolsonaro had earlier asked the rest of the nation to stay away from the issue claiming the fires were an internal matter. His administration had earlier said that the criticism targeted at the president was part of a smear campaign against him.
"Of course [this is] Brazilian territory, but we have a question here of the rainforests that is really a global question. The lung of our whole Earth is affected, and so we must find common solutions," Merkel said on Sunday.
Though Bolsonaro mobilized the military, under increasing pressure, to help fight the blaze, he said on television address that forest fires exist in the whole world and cannot be used as "a pretext for possible international sanctions."
Macron had earlier declared the Amazon fires as a global emergency and pushed the issue to the top of the agenda at the summit. He and Bolsonaro had a go at Twitter earlier after Macron had accused the Brazilian president of not taking action to tackle the fires.
Meanwhile, Bolivian President Evo Morales, who suspended his election campaign due to the crisis, said that he is willing to accept international aid in order to combat the wildfire. Bolsonaro had earlier said that Brazil lacked the resources to deal with the wildfires.
While the wildfires are common during the dry season in Brazil, there is an 85 percent increase in the wildfires this year, according to data published by Brazil's National Institute for Space Research. Amazon is the largest tropical rainforest in the world, which helps slow down global warming, making its protection a vital matter in the fight against climate change.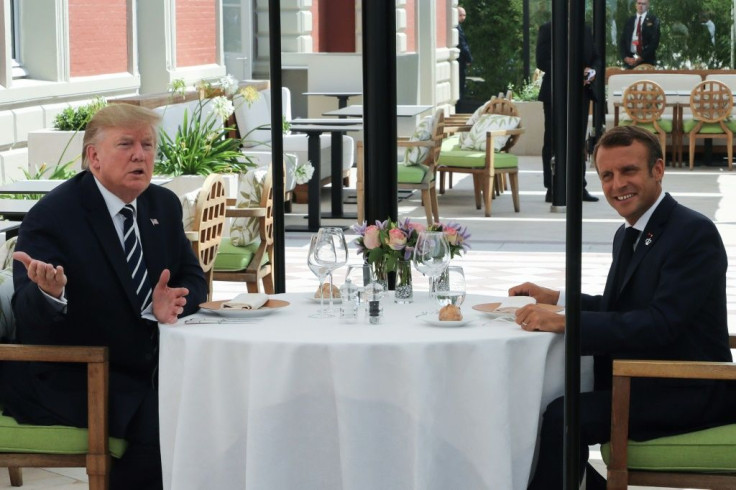 © Copyright IBTimes 2023. All rights reserved.