Gaddafi's Son Captured in Libya: Who is Saif al-Islam?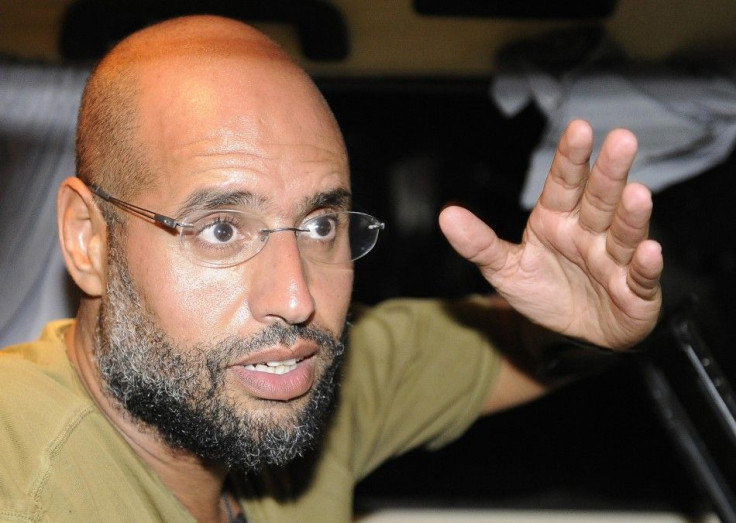 Muammar al-Gaddafi's son Said al-Islam has been captured in the Libyan desert by rebel fights, who have vowed to hold him in the mountain town of Zintan until a government is established for them to hand him over.
Earlier this morning, news of the 39-year-old, British-educated son of the deposed and assassinated dictator capture spread throughout Libya. Celebrations have already spread throughout Libya at the news of his capture.
Ahmed Ammar, one of the Zintan fights, said his unit of 15 men in three vehicles, acting on a tip-off about a possible high-profile fugitive, intercepted two cars carrying Gaddafi and four others in the desert about 40 miles from the small oil town of Obari at about 1:30 a.m.
One year ago, Saif al-Islam was next in line to rule the oil-producing desert state, following in the footsteps of Muammar Gaddafi. He had vowed to die fighting, but was arrested overnight on Nov. 18 and taken without firing a shot.
The Capture of Gaddafi's Son
When the Zintan fighters intercepted the two cars, they fired into the air, demanding the vehicles stop. They then asked the driver to identify his passengers.
After the fighters fired in the air and ground to halt the cars, they asked the identity of the passengers. The man in charge replied that he was Abdelsalam - a name that happens to mean 'servant of peace'. But the fighters quickly recognized al-Islam and seized him without a fight.
At the beginning, he was very scared, Ammar told Reuters. He thought we would kill him. The death of Muammar Gaddafi, al-Islam's father, was in the custody of rebel fighters, and involved a period of brutal beating before the dictator was shot by the resistance.
The fighters put him at ease, telling him he would not be harmed, and Gaddafi's son accepted that he would be taken to Zintan, a town in the western mountains south of Tripoli that was a stronghold of anti-Gaddafi rebels.
A crowd of hundreds thronged the runway in Zintan, preventing his captors removing the prisoner for an hour.
Saif al-Islam himself, sporting his rimless spectacles, appeared calm. He wore traditional robes with a scarf pulled over his face, and had a heavy black beard. He was not handcuffed, though his hand was heavily bandaged from wounds he sustained during the NATO strike.
A Test of Power
The Zintan fighters are one of the militia factions that hold power in Libya, a country still without a government since the ousting of Gaddafi earlier this year.
Al-Islam's capture will prove the first of many tests of a fledging new nation's authority. Prime minister-designate Abdurrahim El-Keib is scheduled to form a government by Nov. 22, and the Zintan fighters say they plan to keep al-Islam, who has been verified as alive and unharmed, until that government is firmly in place.
Bound up in the issue of al-Islam's location however, is what will be done with Gaddafi's son once he is handed over to government authorities.
Many Libyans want to try al-Islam for crimes he has committed against his people before, possibly, handing him over to the International Criminal Court for crimes against humanity.
The European Union however, is pushing for Libyan authorities to bring Saif al-Islam in and take him directly to an ICC court to be tried. The ICC's prosecutor is now headed to Libya to discuss where and how a legal process can take place.
The capture presents a challenge to Libya's National Transitional Council, said Henry Smith, an analyst with the Control Risks Group. The NTC has won international recognition as Libya's still-forming new authority. If they want to try Saif, then what can they do to make Zintan hand him over?
Smith notes that Libyan authorities have no coercive means at their disposal, but cannot simply leave al-Islam's fate to the Zintanis. This is an acid text of the NTC's authority, Smith said.
Who is Saif al-Islam?
I'm really surprised that Saif al-Islam has not met the same fate as his father and his brother, Fawaz Gerges, professor of international relations at the London School of Economics, told BBC TV.
The best thing that the new leadership can do is to hand Saif al-Islam to the International Criminal Court, he said. I don't believe it [Libya] really has the resources and the means to try Saif al-Islam and give him a fair trial.
Asked of the chances of that, he said Almost zero. He said he expected him to get the death penalty and be executed in Libya. This is unfortunate for the new Libya, he said.
When Zintan fighters found al-Islam, he was hiding out scared, with a just few thousand dollars and a cache of rifles in some seized vehicles.
Many Libyans however, believe that within his head, al-Islam holds the key to billions of dollars of public money amassed by the Gaddafi family, and to the healing of a nation torn apart by civil war and decades of genocidal oppression.
Saif al-Islam's resistance to the Libyan uprising, and his steadfast allegiance to his father, was if not completely unexpected than at least somewhat surpriging to those in Libya and abroad.
Al-Islam had for some years been seen as a reformer in Libya, the man behind his father Gaddafi's rapprochement with the West over the past decade.
While his father became infamous for his totalitarian rule and brutal repression of dissent, Gaddafi's son styled himself as a human rights advocate, pushing for democratic and institutional reforms.
Muammar Gaddafi launched a program many years before aiming to destroy imported ideologies, whether they are Eastern or Western, and frequently appeared traveling in an ornate Bedouin tent and wearing tribal dress.
The often Western-dressed al-Islam, according to CNN, speaks fluent English, earned his Ph.D. at the London School of Economics, and was a frequent go-between with international officials and civilians, once writing an op-ed for The New York Times.
When Libya erupted in civil war however, al-Islam, whose primary role in government had been running national charity The Gaddafi Foundation, made his position clear: he would stand by his father.
Saif al-Islam quickly became one of the Gaddafi regime's most visible defenders. As the Libyan uprising became increasingly more violent, the seemingly pacifist and reform-minded al-Islam allegedly had a major role in some of the worst violence seen in Libya after Feb. 13, 2011.
In June, the ICC issued arrest warrants for Muammar Gaddafi, Saif al-Islam and Libyan intelligence chief Abdullah al-Senussi on charges of crimes against humanity after the U.N. Security Council referred the Libyan crisis to the court in February.
The International Criminal Court may try him for giving order to kill unarmed demonstrators after February's revolt.
His role as a principal actor in the brutal repression of the Libyan uprising will now come more firmly to light. Libyan officials pushing for an initial trial in Libya are demanding Gaddafi's son also answer for the over the killings, repression and theft of public funds that comprised the over four decades of Gaddafi's dictatorship.
Luis Moreno-Ocampa, the ICC's chief prosecutor, aligned himself with NATO spokeswomen Oana Lungescu, who has expressed the international collective's faith in the Libyan government to ensure that justice runs its course.
He's arrested, he's alive, and now he will face justice, Luis Moreno-Ocampa, the ICC's chief prosecutor, said. And that is the important news.
© Copyright IBTimes 2023. All rights reserved.