Gadhafi Cause of Death: Two Bullet Wounds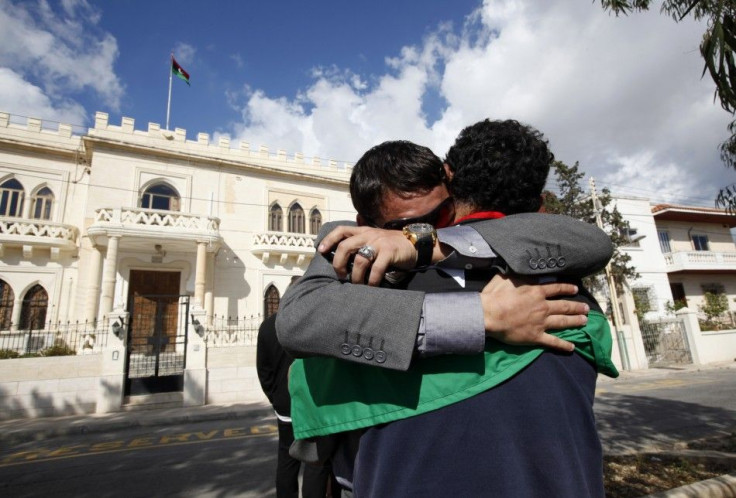 Medical examiners in Misrata, Libya have concluded that Moammar Gadhafi died from two bullet wounds, to the head and chest, The Associated Press reported.
Cell phone videos and photos taken by national fighters during Gadhafi's capture show serious injuries on Gadhafi's head and face. Additionally, in a photo taken on the back of a truck driving from Sirte to Mistrata, Gadhafi's body is seen with bruises on his face and a blood on his chest.
You can't imagine my happiness today. I can't describe my happiness, doctor Abdel-Jalil Abdel-Aziz, who was part of the medical examination team, told the AP. The tyranny is gone. Now the Libyan people can rest.
Gadhafi was found by National Transitional Council fighter Ahmed Al Shebani, who reportedly shot the ousted dictator in the shoulder. Shebani, who was wearing a Yankees hat, told reporters that Gadhafi's last words were don't shoot, which he whispered from inside the drainage pipe where he was hiding.
Gadhafi was allegedly carrying a gold-plated gun with him, which Shebani showed off the media and his fellow revolutionary soldiers.
He called us rats, but look where we found him, 27-year-old government fighter Ahmed Al Sahati told Reuters.
National Transitional Council fighters on the ground have various reports about what happened after Gadhafi was captured, but a video obtained by Al Jazeera indicates that Gadhafi, who was badly injured, was taken alive and then released into the hands of the soldiers, where he then died from his wounds.
He was, however, violently thrashed around by the NTC soldiers, who chanted Allahu Akbar and fired into the air in celebration. It is unclear if Gadhafi was dead or alive at that point.
Amnesty International is asking the NTC to conduct a thorough investigation into exactly how and when Gadhafi died, and that the findings be made public.
It is essential to conduct a full, independent and impartial inquiry to establish whether Colonel al-Gaddafi was killed during combat or after he was captured, Amnesty said.
Amnesty International called on the NTC to ensure that all those suspected of human rights abuses and war crimes, including Colonel al-Gaddafi's inner circle and family members, are treated humanely and, if captured, given fair trials.
© Copyright IBTimes 2023. All rights reserved.