Gadhafi Dead: Who Shot and Killed Moammar Gadhafi?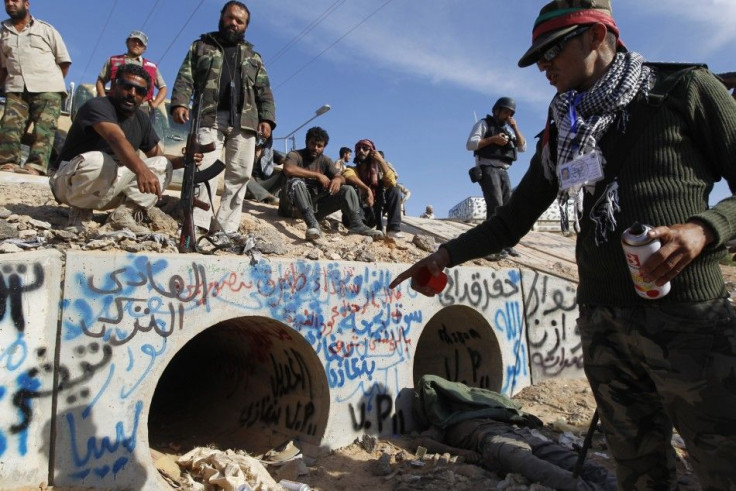 A revolutionary fighter named Ahmed Al Shebani shot and killed Moammar Gadhafi in Sirte, Libya, Al Arabiya television reported Thursday.
The man, who doesn't look much older than 25, allegedly shot Gadhafi in the shoulder as the former Libyan dictator attempted to flee from a hiding spot in a drain pipe.
In a picture, Shebani, hoisted upon the shoulders of his fellow fighters, holds a solid gold pistol once owned by Gadhafi high into the air.
Initial reports of Gadhafi's capture also indicated that the former dictator, whole ruled Libya for over 40 years, was injured in the legs and head and died during a gun battle between National Transitional Council fighters and loyalists. He died from the wounds, NTC commander Abdel Majid Mlegta told Reuters.
His body was then loaded onto a truck and taken to the nearby city of Misrata. When the vehicle entered the city, a crowd of cheering civilians surrounded it, chanting The blood of the martyrs will not go in vain, according to news sources.
Gadhafi's body was then taken to a local mosque, where he will be buried according to Islamic tradition.
Video of Gadhafi's death has been released by al-Jazeera. The graphic footage, accompanied by a number of cellphone photos (found here and here), shows Gadhafi being dragged from what the NTC has called a hole in Sirte, the final city to be captured by the revolutionary forces.
The video of Gadhafi being dragged around the NTC fighters' feet will assuredly become one of the most memorable images of the Libyan revolution for years to come.
While Gadhafi has been killed, the battle of Sirte isn't entirely over. There are still a few loyalists fighters holed up in Sirte, and the NTC has been searching the city for its remaining enemies.
A number of detainees have been taken out of the city in NTC custody, many of them wounded and bloody.
Authorities now believe that Gadhafi and other loyalists were captured trying to flee Sirte after weeks of fierce fighting. The NTC command had surrounded the city and the pro-Ghadafi fighters were likely running out of food, water and medical supplies, forcing them to attempt to escape.
Once Sirte is completely under its control, the National Transitional Council said it will be ready to declare victory. The Libyan Uprising and revolution began in February, at the height of the Arab Spring protests. Peaceful demonstrators in Bengazi were shot dead by Libyan security forces on Gadhafi's orders, prompting a nationwide response.
Sirte will be the last city to fall. Loyalist fighters put up a fierce resistance and controlled a small area in the center of the city for weeks.
© Copyright IBTimes 2023. All rights reserved.