Gadhafi Puts the Blame on Rebels for Reported Uprising During Ramadan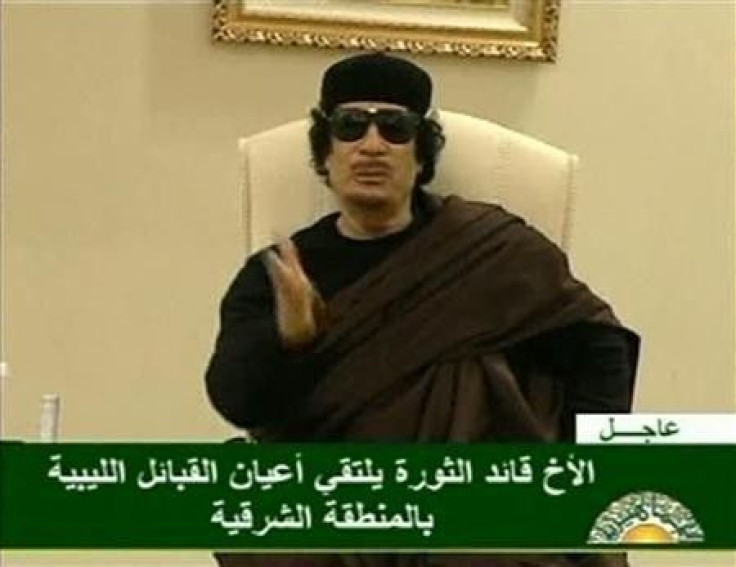 Libyan Leader Muammar Gadhafi has blamed rebel forces in the country for the recent uprising as the people celebrate the month of Ramadan.
During a telephone speech broadcasted on Libyan state TV, Gadhafi said rebels are responsible for destroying the country's infrastructure, because opposition forces burned and destroyed everything in the country, and said the act is unacceptable in the holy month.
According to Xinhua, Gaddafi said all the deeds were scandals and pity instead of democracy, and he called the opposition traitors who cannot represent Libya. The Libyan leader urged his supporters to go forward and find out the rats.
TIME reported that Libyan rebels have said they launched their first attack on Tripoli in coordination with NATO late Saturday. Reporters with The Associated Press also heard unusually heavy gunfire and explosions in the capital. The fighting erupted just hours after opposition fighters captured the key city of Zawiyah nearby, TIME said.
We planned this operation with NATO, our Arab associates and our rebel fighters in Tripoli with commanders in Benghazi, Mustafa Abdel-Jalil, the head of the rebel leadership council, told the Arab satellite channel al-Jazeera. Benghazi, hundreds of miles east of Tripoli, is the rebels' de facto capital.
Abdel-Jalil they said reportedly chose to begin the attack on Tripoli on the 20th day of the Muslim holy month of Ramadan, which fell on Saturday, as the date marks the ancient Islamic Battle of Badr, when Muslims conquered the holy city of Mecca in A.D. 624, according to TIME.
Hours after the rebels said they had attacked Tripoli, state television ran a reported live audio message by Gaddafi, who didn't show himself, but sounded like he was calling the message in.
Gaddafi announced the time and date of his message twice to prove it was live, and had condemned the rebels as traitors and vermin who are tearing Libya apart.
Libyans wanted to enjoy a peaceful Ramadan, he said. Instead they have been made into refugees. What are we? Palestinians?
Libyan government spokesman Moussa Ibrahim said on the state TV that the capital is still under control and that all of Tripoli is safe and stable, and government officials denied that Gaddafi has been seeking refugee for his family.
© Copyright IBTimes 2023. All rights reserved.