Gambia 'Getting Away With Murder' As European Donors Grapple With Funding Effort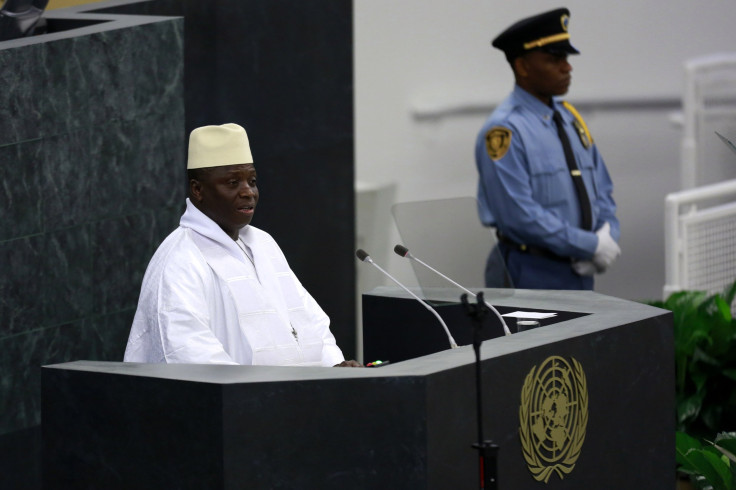 European efforts to pressure Gambia over its new anti-gay law could be undermined as the tiny West African nation turns to Gulf Arab donors for aid. The move calls into question the effectiveness of holding up aid to sway governments on their human rights policies, experts said, especially as African states with rights violations increasingly draw on non-Western donors to make up for lost development funding.
The traditional tactics employed by the West to pressure governments with poor rights records, including the introduction or threat of sanctions, are becoming less effective as more governments get involved in the international aid game, said Larry Diamond, a senior fellow at the Hoover Institution and the director of the Center on Democracy, Development and the Rule of Law at Stanford University in California. "It's a very disturbing time, and the West hasn't figured out how to respond," he said. "As a result, a lot of African regimes are literally getting away with murder."
The European Union is currently debating whether to block 150 million euros ($186 million) in development aid to Gambia after cutting off 13 million euros of funding to the country last week. An EU spokesperson said the decision to cut off aid was attributed to a lack of progress on human rights concerns, Reuters reported.
These concerns stem from the recent crackdown undertaken by the government of Gambian President Yahya Jammeh against the country's LGBT community. In October, the leader signed a law that would punish people with life in prison for the crime of "aggravated homosexuality." Since then, state security forces have begun imprisoning people suspected of being gay, according to Amnesty International.
Gambia is heavily reliant on foreign aid to fill gaps in its balance of payments, reported the BBC. As the EU is country's biggest development assistance partner, the loss of funding would be a major blow to the Jammeh government. But, following condemnation from European states in November, Jammeh made a high-profile trip to Qatar, from which he secured two economic cooperation agreements funding transport and agricultural development and a pledge to expand economic ties, according to the Gulf Times. Shortly after, the president cut off dialogue with the EU. Gambia also continues to receive economic support from Kuwait, which has pledged more than $80 million over the past two decades, according to Reuters, which noted that Western diplomats were concerned over the shift in aid.
This shift should have Western governments concerned, according to Diamond. "The very idea that there are dynamic, resourceful sources of influence in the world other than Western countries that these countries can look to for funding diminishes the influence of the West," he said.
There is some precedent for this sort of shift on the continent to international donors that do not attach rights stipulations to aid, according to Audie Klotz, a professor of political science at the Maxwell School of citizenship and public affairs at Syracuse University in New York. "Any time sanctions are imposed, someone steps up to supply whatever resource is embargoed," she said in an email. "Indeed, for at least a decade, China has been heralded in various African countries for providing infrastructure projects that are not tied to human rights or democratization records."
Zimbabwe's "Look East" policy, implemented after the EU and U.S. imposed sanctions on the repressive regime of President Robert Mugabe in 2002, is a notable example of this, said Dewa Mavhinga, a senior researcher on Zimbabwe and southern Africa at Human Rights Watch. The policy focused on expanding ties with countries, including China and Russia, as a "sanctions-busting strategy," he said. "The ramifications therefore include the East propping up dictatorships in Africa with no respect for human rights because their aid does not come with any such conditionalities."
Jammeh may be taking his own response to sanctions from the Mugabe model, but the involvement of Gulf donors has fueled security concerns among some Western diplomats. "West Africa has a large, impressionable youth population that have no access to jobs. Their loyalty might be bought through aid, sometimes by those sympathetic to the Islamification of the region," one Western diplomat told Reuters.
This charge is a "real stretch," according to John Campbell, the Ralph Bunche senior fellow for Africa policy studies at the Council on Foreign Relations in New York and a former U.S. ambassador to Nigeria. "Gambia is a predominantly Muslim country, and that may well have played some role in this," he said. But the idea that Gulf funding would automatically translate into the rise of jihadism was "sloppy analysis."
Despite this, the move toward a reliance on aid from Gulf donors is still problematic, said Diamond. "You can be sure that if the money is coming from Saudi Arabia, Kuwait or Qatar, it may or may not be pushing Islamist values, but it's certainly not insisting on any fidelity to democratic principles."
With northern European states pressing for sanctions on Gambia, the bloc's ability to productively address Gambia's rights issues could continue to diminish. "There's always a question about the effect of sanctions," said Campbell. "What seems to be clear is that sanctions that are highly targeted can be effective. Blanket sanctions less so." According to him, Gambia's tourism industry, which makes up about 20 percent of its gross domestic product, would take the most direct hit with many European vacationers likely to avoid the country over the sanctions.
Meanwhile, Europeans will be ceding their ability to promote democracy, according to Diamond. "If our goal is to generate leverage to bring about democratizing changes, we can't just leave it at the cessation of aid," he said. "And if we can't figure out how to bring about democratizing change in a country as weak and vulnerable as Gambia, it's a very pathetic statement about the democratic West."
© Copyright IBTimes 2022. All rights reserved.
FOLLOW MORE IBT NEWS ON THE BELOW CHANNELS