Gambia Threatens To Execute All Death Row Prisoners, But Africa Moving Towards Abolition Of Capital Punishment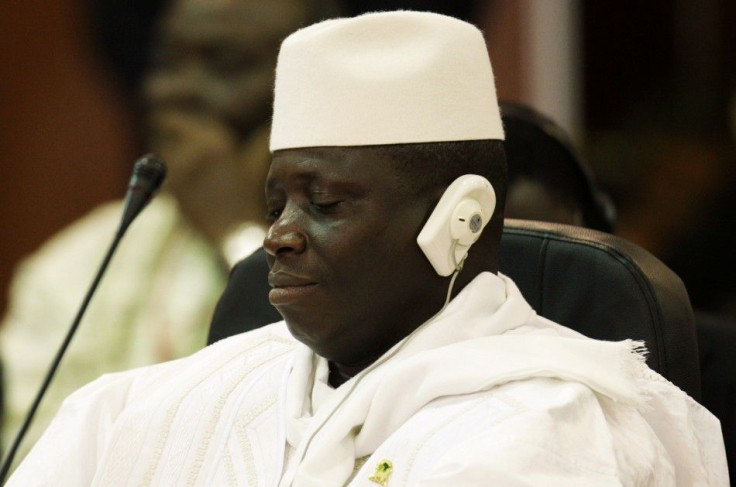 The European Union has warned Gambia that will take an "appropriate response" in the wake of reports that the small West African nation executed nine convicted prisoners last week and that its government plans to kill all of its remaining 'death row' inmates by next month.
Catherine Ashton, the EU's High Representative, already demanded that Gambian officials halt those executions – which comprised eight men and one woman -- to no avail.
"I strongly condemn the executions which have reportedly taken place… following [Gambian] President [Yahya] Jammeh's stated intention to carry out all death penalties before mid-September," read Ashton's statement.
The British Foreign Office Minister Alistair Burt also condemned the executions.
"I urge the Gambian authorities to halt any further executions," he said.
"The U.K. government opposes all use of the death penalty as a matter of principle."
The African Union has also expressed its concerns over the gathering storm of executions in Gambia. AU chairman Thomas Boni Yayi, the president of Benin, has sent his foreign minister Nassirou Bako Arifari to Gambia to prevent further killings, according to BBC.
"After having learned of the imminent execution of a number of prisoners sentenced to death, President Yayi, who is very concerned, wished that President Yahya Jammeh not carry out such a decision," Arifari said.
Gambia, a former British colony, is a signatory to the Cotonou Agreement – a pact signed by the EU and various African, Caribbean and Pacific states. Under the treaty, signatories are required to observe EU human rights standards, including the prohibition of capital punishment.
Ashton has suggested that by violating terms of that treaty, Gambia could be punished by receiving less aid from the European Development Fund.
According to UPI, Gambia is scheduled to receive $97.5 million in EU aid under terms of a five-year agreement that expires next year.
However, Jammeh earlier warned in a speech: "By the middle of next month, all the death sentences would have been carried out to the letter, there is no way my government will allow 99 percent of the population to be held… ransom by criminals."
According to human rights organization Amnesty International, a total of 47 people are languishing in Gambia's death row (including the prisoners who were reportedly executed).
Only murder and treason are capital crimes in the nation, however, it is unclear if all the condemned inmates were convicted of these offenses. Indeed, according to some reports, some of the prisoners were former government officials and military officers who have been detained since 1994, when Jammeh seized power in a coup.
Jammeh reinstated the death penalty in Gambia the following year, though it apparently had not been applied since then.
"The decision… to execute nine prisoners after more than a quarter of a century without execution would be a giant leap backwards," said Paule Rigaud, Amnesty International's Africa deputy director, in a statement.
"The reported executions would bring The Gambia back into the minority of countries which are still executing."
Rigaud added: "President Jammeh should establish an immediate moratorium on the death penalty, in line with resolutions of the U.N. General Assembly and the African Commission on Human and Peoples' Rights. We are urging the authorities to immediately halt any further possible executions."
Amnesty noted that no executions had taken place in Gambia since 1985 and that it had classified Gambia as "abolitionist in practice."
It is unclear exactly how many AU states have formally abolished the death penalty since some countries still have it on the books (but generally don't apply such punishment), while others do indeed execute condemned prisoners. Further complicating matters is a lack of transparency regarding the disposition of condemned prisoners in some African nations.
Amnesty said that 22 of the 54 AU member states are "abolitionist in practice," and 16 are "abolitionist in law for all crimes."
The African Commission on Human and Peoples' Rights, a quasi-judicial body that reports to the AU, has been seeking to ban the death penalty in Africa since 1999 when it urged member states to declare a moratorium on capital punishment.
Among AU members, it is believed that Botswana, Burundi, Cameroon, Chad, Comoros, Democratic Republic of Congo, Egypt, Equatorial Guinea, Ethiopia, Guinea, Lesotho, Libya, Nigeria, Sierra Leone, Somalia, Sudan, Uganda and Zimbabwe, all retain the death penalty.
The Commission said in a report released late last year that between 2000 and 2005, more than 2,000 death sentences were pronounced across Africa, while at least 157 prisoners were actually executed.
In 2010, at least 670 death sentences were declared by courts in 28 African nations.
© Copyright Thomson Reuters 2023. All rights reserved.