Gambia's President Yahya Jammeh Threatens To Slit The Throats Of Gay People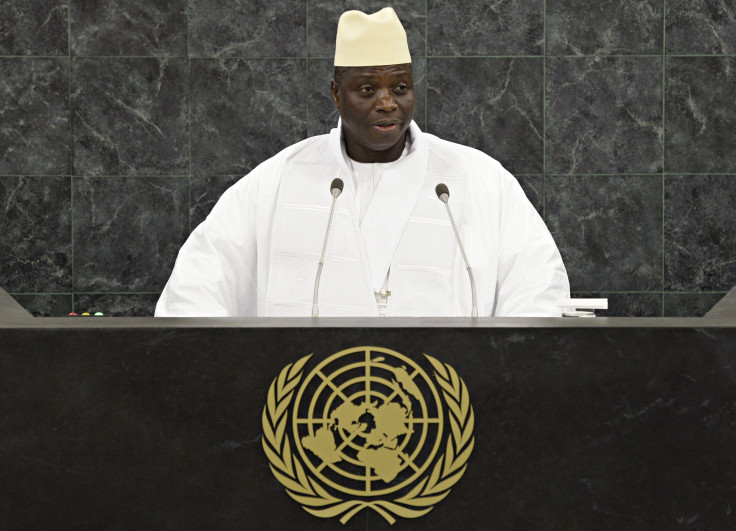 Gambian President Yahya Jammeh threatened the country's homosexuals in a recent speech, telling them: "I will slit your throat." Addressing an audience last week in the town of Farafeni as part of a nationwide tour, Jammeh said, "If you are a man and want to marry another man in this country and we catch you, no one will ever set eyes on you again, and no white person can do anything about it," VICE reported Tuesday.
Jammeh's homophobic views have drawn international censure before, and both Europe and the U.S. cut off their aid to the West African nation last year, citing its atrocious human rights record, after it introduced a law in October outlawing homosexuality. Three men were arrested under the law last December after a security operation.
The law classified gay actions as criminalized acts of "aggravated homosexuality" punishable by life in prison. The new law strengthened Gambia's existing ban on homosexuality, which previously carried a sentence of up to 14 years in jail.
About 95 percent of the country's population is Muslim, and a Gambian journalist told VICE that it still gets significant aid from other Islamic countries.
Jammeh has made violent comments targeting the country's homosexuals before. In 2008, he threatened to behead them. In 2014, at a speech on the country's independence anniversary, he compared gay people to vermin -- comments that U.S. Secretary of State John Kerry said left him "deeply troubled."
In 2013, he questioned why he had never seen a "homosexual chicken, or turkey" in a statement in parliament: "Homosexuality is anti-god, anti-human, and anti-civilization. Homosexuals are not welcome in the Gambia. If we catch you, you will regret why you are born. I have buffaloes from South Africa and Brazil and they never date each other. We are ready to eat grass but we will not compromise on this."
Jammeh survived a coup attempt in December, when a group of conspirators composed of former Gambian soldiers residing in the U.S., Europe and the neighboring African country of Senegal attempted to oust his regime while he was abroad. Three U.S. citizens were charged for the plot.
© Copyright IBTimes 2023. All rights reserved.
FOLLOW MORE IBT NEWS ON THE BELOW CHANNELS