Gambia Coup Attempt: President Yahya Jammeh Blames 'Terrorist Group' For Attack As Soldiers Search For Rebels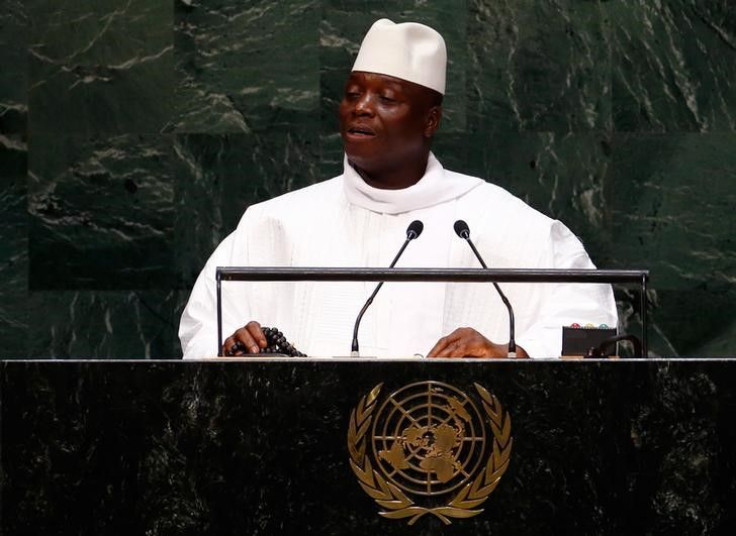 Armed forces under the command of Gambian President Yahya Jammeh conducted raids Thursday in search of opposition to the leader's regime in response to an alleged coup attempt earlier this week, reports said. Jammeh referred to the assailants who purportedly attacked his presidential palace in Banjul as a "terrorist group" who received support from foreign powers.
"It is an attack by dissidents based in the U.S., Germany and U.K.," Jammeh said during a press conference, according to Al Jazeera. "This was not a coup. This was an attack by a terrorist group backed by some powers that I would not name."
Jammeh was out of the country when armed men -- some of whom reportedly belonged to his presidential guard -- descended on his compound. Panic ensued throughout the nation's capital, with both Gambia's national radio and state television services knocked offline. Jammeh's supporters succeeded in defeating the assailants after several hours of fighting. Five rebels were killed in the battle; it isn't yet known if Jammeh's soldiers suffered any casualties, the New York Times reports.
Lamin Sanneh, the alleged leader of the coup attempt, was among the dead, Agence France-Presse reported. An unnamed military officer said the failed bid stoked fears that Jammeh would soon attempt to purge his government of suspected dissidents.
United States officials expressed concern over the situation Wednesday and called for a peaceful end to hostilities. "We strongly condemn any attempt to seize power through extra-constitutional means, and we call for calm and for all parties to refrain from further violence," a State Department spokesman said, according to Reuters. The United Nations made a similar plea Tuesday, calling for "a transparent investigation" and measured response to the coup attempt.
Jammeh, 49, seized power in a 1994 coup when he was just 29 years old. He is staunchly against homosexuality and once threatened to execute LGBT individuals within Gambia. Jammeh has also been accused of harsh treatment of journalists and political opponents.
© Copyright IBTimes 2023. All rights reserved.
FOLLOW MORE IBT NEWS ON THE BELOW CHANNELS