The Game-Changing Global And Regional Navigation Satellite Systems - IBT Graphics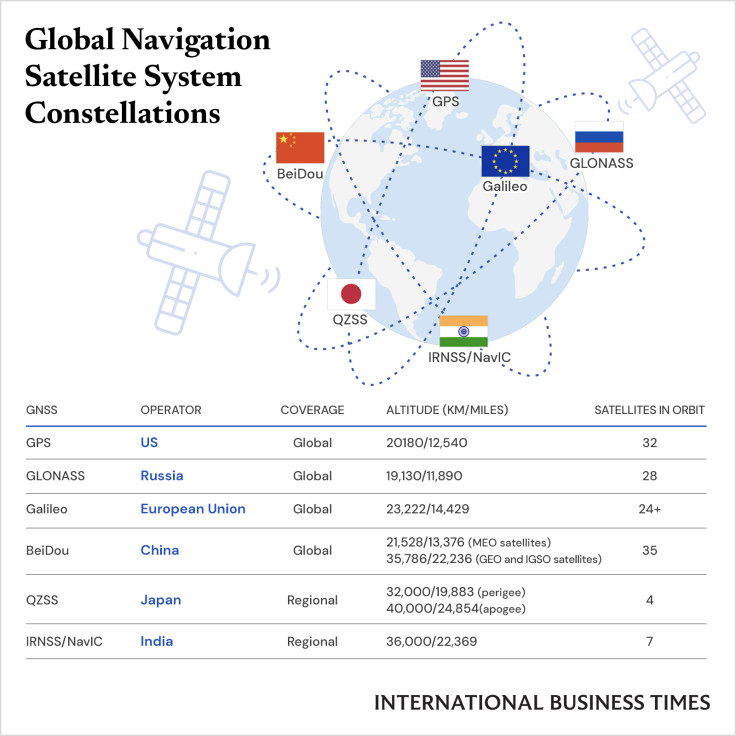 Global navigation satellite system (GNSS) is a generic term for satellite constellations that provide positioning, navigation, and timing (PNT) data services on a regional and worldwide basis.
Today, people rely on GNSS for everyday activities, ranging from communications systems to mobile navigation applications like Google Maps.
The four global GNSS systems are GPS (U.S.), GLONASS (Russia), Galileo (EU), BeiDou (China). Furthermore, there are two regional systems--QZSS (Japan) and IRNSS or NavIC (India).
The Global Positioning Services (GPS), operated by the U.S. Armed Forces, was the first constellation to be established in space. The first GNSS satellite was launched by the American army in 1978, and the first series of satellites became fully operational in 1993.
Meanwhile, GLONASS was first developed by the Soviet Union in the 70s' and launched in 1982. It is operated by Roscosmos State Corporation for Space Activities of the Russian government, and currently has 24 satellites in orbit.
© Copyright IBTimes 2023. All rights reserved.