Gas Prices Dropping Below $2 A Gallon Could Give Retail Sales A Year-End Boost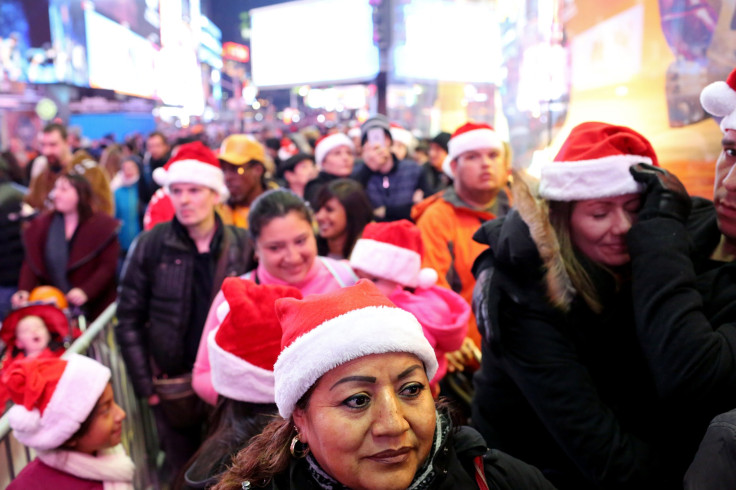 In the final stretch of a mixed holiday shopping season, retailers have at least one reason for optimism. On Monday, the average price of gasoline in the United States fell to below $2 a gallon for the first time since 2009, putting extra spending money in consumers' pockets.
That extra money could mean a merrier Christmas for U.S. retailers, according to Chris Christopher, a retail analyst at IHS Global Insights. "There's some momentum building up at the end of December," he said.
Retail results for the holiday season have so far been muted. Spending stagnated in October and showed only modest growth in November, putting expectations for fourth-quarter sales below the 3 percent gain forecast earlier in the year. Deloitte's forecast for overall holiday sales climbed to at most 4 percent, well below 2014's 5.2 percent year-over-year rise.
Consumers' economic outlook, a major factor in holiday shopping outcomes, is mixed. Households with modest incomes haven't seen robust wage growth in years. Unsurprisingly, this group has reported the greatest trepidation about the economy of any income bracket.
The biggest retail headwind has been the unseasonably warm weather across much of the country in November and December. Even on the morning of Christmas Eve, huge swaths of the United States are expected to wake up to temperatures some 20 degrees above normal.
Retailers have felt a chill as customers put off buying coats and snow shovels given the balmy weather. Weather consulting firm Planalytics recently estimated that stores have missed some $185 million in sales due to the abnormal climate.
"Not to make excuses, but October was the warmest October ever," Gap CEO Art Peck told investors during a quarterly earnings call earlier this month.
"You need a winter blast to get people motivated, and that didn't happen," Christopher said. But with inventory building up, apparel stores are already marking down items. When winter finally takes hold, Christopher said, consumers will rush to take advantage of those deals.
Cheap gas could also be a shot in the arm, especially as temperatures drop for much of the Northeast beginning Christmas Day. Two-thirds of holiday shoppers expect to do additional shopping in the week after Christmas, a National Retail Federation survey found.
Meanwhile, as of mid-December, nine in 10 shoppers still had outstanding items on their lists, the survey found. "Even an unseasonably warm winter cannot keep last-minute shoppers from putting off their holiday purchases anymore," said NRF president Matthew Shay in a statement.
"It's going to be a glorious holiday for consumers," said Tom Kloza, head of energy analysis at the Oil Price Information Service. Kloza predicts that gas could drop from $1.99 nationally to as low as $1.79 in the coming months, before the annual pickup in gas prices takes hold in the spring.
Kloza notes that given the tumbling price of crude oil, we should expect gas to be even cheaper than it is. Brent crude, the global oil benchmark, dropped below $37 a barrel in December amid a deepening supply glut that has shown no sign of abating. The last time crude was this cheap, in July 2004, Americans were filling up their tanks for $1.89 a gallon.
"We've finally broken through $2 nationally," Kloza said. "We'll break substantially below that."
What does that mean for businesses? In general this year, Americans have told survey-takers that they've put the money saved on gas costs into their savings accounts. But research from the JPMorgan Chase Institute drawing from 25 million credit card users indicates that the average American actually spends the majority of his or her gas savings.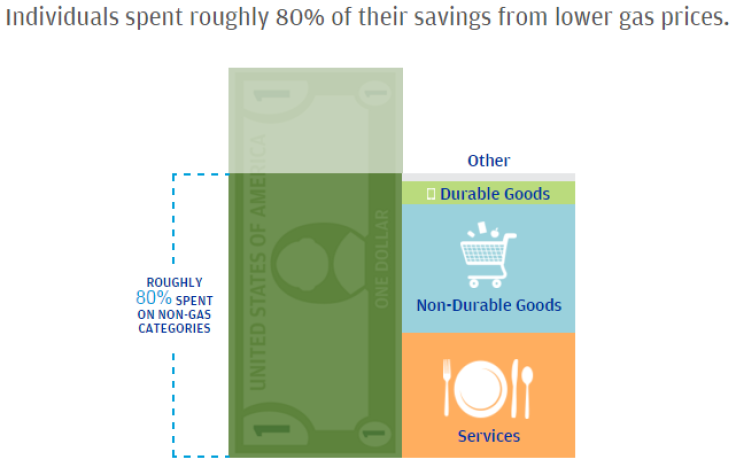 IHS Global Insights estimates that the average American household pocketed $700 in fuel savings this year. According to JPMorgan's numbers, 80 percent of that money was spent at restaurants, department stores and entertainment centers.
Among the beneficiaries of that increased spending are restaurants. "You save an extra 10, 15 bucks at the pump, it's a little easier to go out to eat," Christopher said.
Some chains may have already felt that boost. Darden Restaurants, for example, which runs Olive Garden and Longhorn Steakhouse, reported earnings last week of $0.54 per share in its most recent quarter, smashing expectations of $0.42 per share.
For the consumer sector in total, Christopher said, things are looking up at the end of the year: "Expect December to be pretty good."
© Copyright IBTimes 2023. All rights reserved.