Gaza Conflicts 'Inevitable' Unless Israeli Blockade Is Lifted, New Report Warns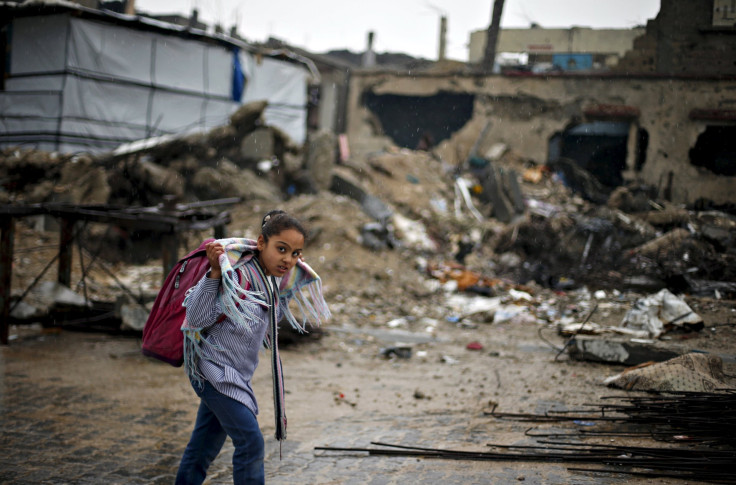 Six months after international donors pledged nearly $5.4 billion dollars toward reconstruction work in the war-ravaged Gaza Strip, nearly 100,000 people are still homeless in the Palestinian enclave, the Association of International Development Agencies (AIDA), a coalition of international aid groups, said in a report released Monday.
"Only 26.8 percent of money pledged by donors six months ago has been released so far," AIDA said in a statement accompanying the report. "Even when funded, many reconstruction projects have not yet begun due to restrictions on essential material under the blockade. Most of the 81 health clinics and hospitals that were damaged still lack funds for reconstruction, but the few that have funds do not have the material needed to proceed."
The densely populated Palestinian enclave has endured three wars in the last seven years that have left entire neighborhoods destroyed and forced millions to live in crowded refugee camps. In the latest war, which was perhaps the most devastating for those living in Gaza, over 2,200 Palestinians, a majority of them civilians, were killed. Israel lost 72 people, including six civilians.
The AIDA report, signed by 45 international aid groups, including Oxfam, Save the Children and Christian Aid, said that unless the Israeli blockade of the Gaza Strip is lifted and a durable ceasefire between Hamas and Israel is achieved, "a return to conflict -- and the cycles of damage and donor-funded reconstruction that accompany it -- is inevitable."
Since a ceasefire was implemented in August last year, more than 400 incidents of Israeli fire into Gaza, and four rockets fired from Gaza into Israel have been recorded, the report said. "The (Israeli) blockade has reduced Gaza to dependency on aid, with 80 percent of the population receiving international assistance and 63 percent of youth unemployed," it added.
AIDA urged the international community, in particular the "quartet of the U.S., the EU, Russia and the UN," to propose a time-bound plan to end the blockade and called on the governments of Israel and Palestine to abide by international humanitarian laws.
"We must ensure that this most recent and most devastating conflict was the last one. There must be consequences for continued violations. By facilitating a culture of impunity, the international community is committing itself to indefinitely picking up the pieces," William Bell, Christian Aid's policy and advocacy officer, said in the statement.
© Copyright IBTimes 2023. All rights reserved.
FOLLOW MORE IBT NEWS ON THE BELOW CHANNELS