Gaza: Israeli Strikes Hit Gaza Mosques; Death Toll Rises On Both Sides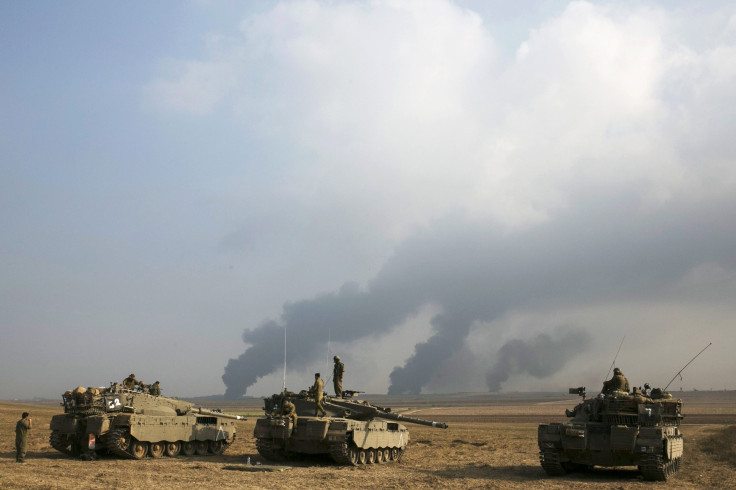 Update as of 5:03 a.m. EDT: Even as efforts to arrange a cease-fire in the Gaza Strip intensified, Israeli air strikes on Tuesday hit five mosques and a sports complex, USA Today reported, citing a police official in Gaza.
Meanwhile, a soldier from the Israel Defense Forces is missing and it was not clear if he was dead or alive, Associated Press, or AP, reported citing a Israeli defense official. The report follows claims made by Hamas Monday that it had kidnapped an IDF soldier. The claim was dismissed by Israel's U.N. ambassador.
"A vehicle carrying 7 soldiers was attacked July 20," the Israeli Defense Forces announced via their official Twitter account, according to USA Today. "We have identified 6 of their bodies. Efforts to identify the 7th soldier are ongoing."
Five people were killed and 70 injured after a hospital in Gaza was hit by Israeli artillery, BBC reported, citing Palestinians sources, while Israel Defense Forces announced Tuesday that two more IDF soldiers were killed Monday, bringing the number of Israeli military fatalities to 27 since the start of the ground operation.
Palestinian TV showed wounded people being treated after the strike on the Al-Aqsa Hospital in Deir al-Balah in the central Gaza Strip. Many Israeli tank shells hit the hospital's reception, intensive care unit and operating theatres with most of the wounded being doctors, the BBC report said, adding that the Red Cross has been requested to help evacuate patients from the building. Al Jazeera reported on Tuesday that the number of lives lost on the Palestinian side has grown to 583.
The Israeli military said it had "successfully targeted" a cache of anti-tank missiles in the hospital's "immediate vicinity." According to BBC, Israel reportedly told residents of neighboring areas to head to Deir al-Balah for safety as its ground offensive continued to target neighborhoods to the east of Gaza City for a second day.
"Civilian casualties are a tragic inevitability of Hamas' brutal and systematic exploitation of homes, hospitals and mosques in Gaza," the Israeli military reportedly said in a statement.
Since the start of the ground offensive Friday, 23 tunnels have been destroyed and 183 militants have been killed while 20 more have been captured, the Jerusalem Post reported citing a senior military official. In al-Ram, northeast of Jerusalem, a Palestinian was shot dead by security forces, during a riot on Monday night, the report added.
About 131 rockets and mortars were fired at Israel on Monday, of which 108 hit Israel and 17 were intercepted, the Israeli military said, according to the BBC report. No casualties were reported.
Meanwhile, U.S. Secretary of State John Kerry held talks with U.N. Secretary General Ban Ki-moon to arrange a cease-fire. Kerry said the U.S. is concerned for the safety of Palestinian civilians, but backed Israel's offensive, saying: "No country can stand by while rockets are attacking it." Kerry also pledged $47 million in U.S. aid to Gaza "to try to alleviate some of the immediate humanitarian crisis" and said the U.S. will continue to work toward a cease-fire deal with both sides.
Hamas leader Ismail Haniyeh said Monday that any ceasefire that did not address the Israeli-Egyptian blockade on the Gaza Strip would not be accepted, according local television reports. "This siege, this unjust siege, must be lifted," he said.
According to the U.N., 43 percent of Gaza is now "affected by evacuation warnings" or has been declared a "no-go area" with people seeking shelter in U.N.-run schools going up by 400 percent.
© Copyright IBTimes 2023. All rights reserved.