Gaza Strip Is Still Smoldering, Tense And A Time Bomb A Year After War With Israel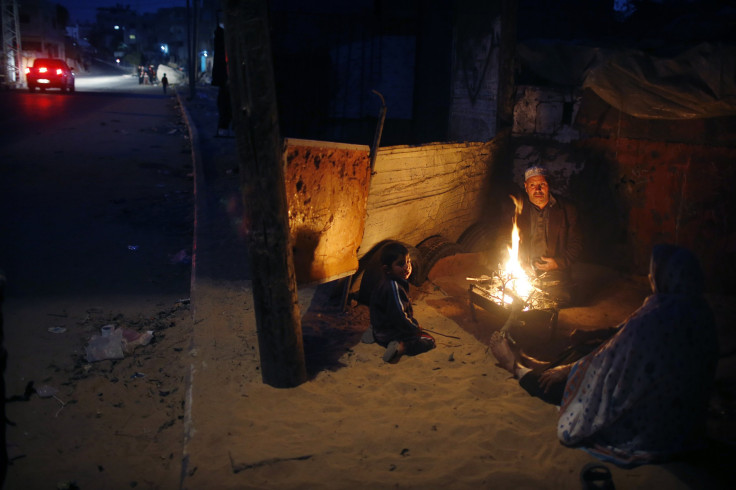 GAZA -- A new, finely decorated house in Jabalya, a refugee camp in the north of the Gaza Strip, has replaced the one belonging to the Himazi family that was bombed a year ago by an Israeli airstrike, which killed Amna Hijazi's husband, Fuad, 46, and two of their sons, Mohammad, 3, and Suhaib, 2. The aftermath of the attack was filmed as rescuers pulled the family from the ruins.
The new house, though welcome, does not lessen Amna Hijazi's grief and pain over the brief war fought in November 2012 between Israel and several armed Palestinian groups. During the bloody week of Israeli strikes on Gaza from the air and sea, which were countered by hundreds of rockets shot at Israel, some 150 Palestinians and six Israelis died.
Fuad Hijazi, as his widow noted, was caught in the crossfire. "Fuad did not belong to any movement or party -- he was a civilian," she told IBTimes last week. "My two kids died right on the bicycles they were riding when the missile hit them. How can I feel? Very, very bad."
As she talked, her trembling hands pointed to the chair next to her, where she had laid a photo of the funeral procession of her dead family members, taken by Swedish photographer Paul Hansen and named the World Press Photo of the Year for 2012. "I have spent almost one year semi-paralyzed in bed to recover from my own wounds and was able to take my first steps only last month," she added while holding tight to a walker.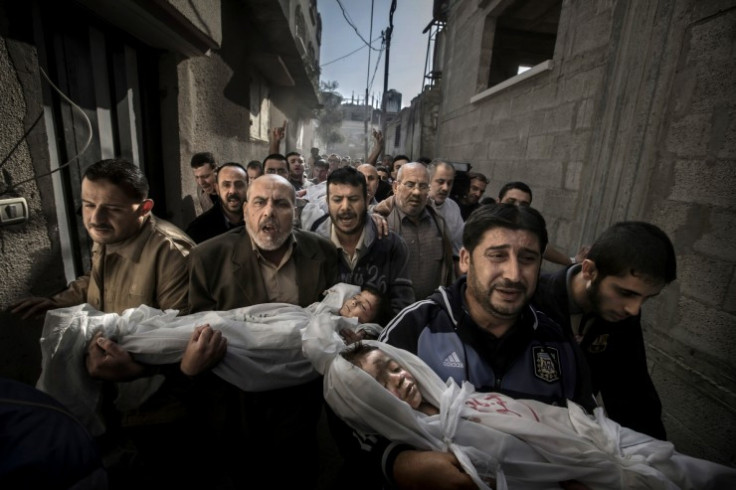 In the past year, with help from relatives and the pension earned as a school janitor by her husband, Hijazi has managed to provide for her six remaining children, aged 4 to 20 (another was shot dead years ago by an Israeli soldier while trying to rescue a Palestinian militant and get his weapon). The United Nations Relief and Works Agency for Palestine Refugees (UNRWA) and the local government assisted in rebuilding the family home.
The life of the Hijazi family, which is dependent upon foreign aid and a resilient spirit, is not unique in the Gaza Strip, especially since 2007, when the armed wing of Hamas took control. Israel reacted by imposing a harsh embargo and a naval blockade on Gaza's new rulers and its 1.8 million inhabitants, who still heavily rely on food and cash distributions from UNRWA. Although some new cars made their way into Gaza just after the truce, many vehicles that dealers tried to bring in were bloacked at the Kerem Shalom and Rafah crossings by the Israelis. Otherwise, new construction was proceeding apace until July, when it was halted owing to a lack of cement, which had previously been imported via tunnels from Egypt.
According to the Hamas leadership at the time, the cease-fire agreement concluded last year with Israel would eventually lead to the lifting of the embargo. Many in Gaza hailed the announcement with great relief. But unfortunately, very little has changed since then.
"What we are getting from Israel is mainly food, milk powder and diapers," observed Maher Abu Sabha, general director of the Gaza Customs. "Such imports have increased since last December. As for cement, iron or other building materials that could spur development, none have been allowed to come in. If we compare this situation with a lifting of the embargo … well, it is disappointing."
Disappointment was all the more evident at the Israeli crossing of Kerem Shalom, the only working access point for goods in and out of Gaza (as a result of the 1994 Paris Protocol signed by Israel and the Palestinian Authority, all Palestinian trade must be handled through Israeli-controlled ports). On a weekday morning, only a few trucks drove into Gaza loaded with bananas or Israeli-grown pears. According to Sabha, the number of trucks peaks at 200 to 250 per day.
While these trade figures are far from enough to sustain and develop the local economy, the lethal blow to Gaza came not from Israel, but from Egypt. In July, the military coup that deposed President Mohammad Morsi ended the favorable policies of the Muslim Brotherhood toward Hamas. Today, the Rafah crossing between Gaza and Egypt, which is the only gateway for Palestinians out of Gaza (except for urgent medical cases that must be approved by Israel to be allowed to go through the Erez Crossing), opens every other week, and then only for a limited number of travelers.
Perhaps more importantly, the extensive network of tunnels -- through which everything from cement to cars, rockets and weapons was smuggled into Gaza for years -- has been closed from the Egyptian side. What once looked like a bustling lifeline of thousands of goods and workers is now a barren landscape of abandoned holes.
"These tunnels made up to 90 percent of the local economy," said Khaled Abu Ahmad, who used to import gasoline and gravel from Egypt. "Now it is zero. Nobody works anymore. They are killing us."
Abu Ahmad himself was forced to fire 10 workers, who were among the 30,000 estimated to be employed in the tunnel trade. But the long-term consequences of the tunnels' closure for Gaza may be even more serious than unemployment.
Without supplies, all construction projects but one are on hold, and the price of fuel has already doubled. Electricity is supplied regularly for only six hours a day, and gasoline for power generators will soon become a rare commodity here. "This is an emergency, and we are doing our best to deal with it," said Hatem J. Owida, deputy minister of economy in Gaza.
Owida refused to blame Hamas for the current problems, but acknowledged that the brand-new cars and buildings that can be seen on the streets of Gaza mask a rapidly deteriorating situation. "The unemployment rate has jumped from 27 percent to 40 percent," he said. "Exports are down from some 100 trucks in 2005 to maybe half a truck today. We can only appeal to the people to hang on and to be creative like they have been in the past when faced with difficulties."
Owida is confident the people of Gaza will overcome the obstacles, but Hamas is growing nervous as dissent against its rule appears to be increasing. A challenger to Hamas could come from within Gaza, where other groups such as the Islamic Jihad could push for a showdown. Several young activists were jailed or kept under house arrest after calling for marches on Nov. 11 to commemorate the death of the late Palestinian leader Yasser Arafat. Some of them claim to have been inspired by the Tamarod opposition movement that fought the Muslim Brotherhood government in Egypt and welcomed the coup, but none would agree to be interviewed for this article for fear of reprisal.
"The Hamas coup in 2007 has caused this embargo, and all people are suffering here. Those problems do not exist elsewhere for Palestinians," said Feisal Abu Shahla, head of the Fatah Parliament members elected in Gaza. Fatah is the ruling party in the West Bank. "Hamas lost the support of Syria, then Tunisia, Jordan and eventually Egypt. If they accepted the Palestinian reconciliation under President Abu Mazen [Mahmoud Abbas], and the return of democracy in Gaza, everything could be better."
With living conditions likely to deteriorate into a struggle for survival for many, the future of Gaza is bleak. Hamas, meanwhile, has been left out of the peace talks under way between the Palestinian Authority and Israel, which ironically stands out as the only economic partner for Gaza at the moment. And the cycle of violence continues, with the first anniversary of the start of last year's war, Nov. 14, marked by Israeli jets striking the Strip in retaliation for two rockets launched into Israel.
If there is agreement about anything now, it is that the isolated Gaza Strip is a ticking bomb, and time is running out.
© Copyright IBTimes 2023. All rights reserved.