General Votel's Secret Visit To Syria Signals US Increasing Reliance On Syrian Kurds To Defeat ISIS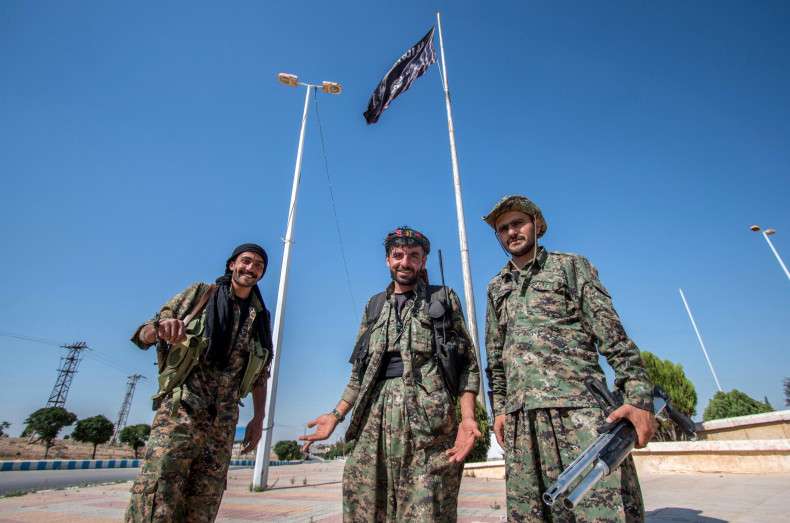 The Syrian rebels are at odds with each other once again as U.S. Army Gen. Joseph Votel, the new commander of U.S. forces in the Middle East, visits the country on a secret mission. The general has been tasked with figuring out how to get the Sunni, Christian and Kurdish militaries to work together to defeat the Islamic State group, but each group is vying for control over the unit.
The U.S. is actively trying to build a new opposition coalition that includes all ethnicities, including Sunnis, Christians, Turkmen and Kurds but has found that the Kurdish soldiers, also known as the YPG militia, are best fit to lead. The collective coalition operates under the banner known as the Syrian Democratic Forces. The U.S. reliance on the YPG militia has angered other rebel groups who claim they too have proved themselves on the battlefield against the Islamic State group, also known as ISIS.
Members of the respective rebel groups took to social media Sunday, claiming the U.S. reliance on the YPG was misplaced.
Votel, who has headed U.S. Central Command for seven weeks, is the highest-ranking U.S. military officer to have entered Syria since 2014. He traveled to Syria last week to monitor the buildup of SDF forces as they prepare to take on ISIS in Raqqah Province, the group's headquarters in Syria.
"I have responsibility for this mission, and I have responsibility for the people that we put here," Votel told the Associated Press.
Several journalists accompanied Votel on his trip to Syria on the condition that they not write about the journey until after they left the country. The Washington Post's David Ignatius published an article Sunday about the SDF forces in Syria, claiming that "only the Kurds — not the Sunnis — have the muscle now."
The Sunni fighters consist of rebels that used to fight under the umbrella of the Free Syrian Army — the initial rebel group that rose up against President Bashar Assad. That larger opposition group, though, has folded. Rebels split off into other, smaller groups. Some even joined the militant organizations such as Jabhat al-Nusra and ISIS.
"We found that the YPG is the only force that can liberate us," Sheikh Mohammed al-Mila of the Tufaiha tribe told Ignatius. A local Syriac Christian leader whose small militia is allied with the Kurds told the Washington Post that a coalition without the leadership of the Kurds would be "a lose-lose situation for all of us."
© Copyright IBTimes 2022. All rights reserved.