'Genshin Impact' Rosaria Banner Confirmed: Upgrade Materials To Collect And How To Get Them
KEY POINTS
"Genshin Impact" 1.4 is set to go live in a few days
Update 1.4 content was recently shared by miHoYo
Rosaria is a featured four-star character in Update 1.4 banner
Chinese game developer miHoYo finally pulled the curtain back on update 1.4 and confirmed that Rosaria is arriving in "Genshin Impact." Ahead of the Sister of the Church of Favonius's launch, players should prepare by collecting her upgrade materials. Here are Roasaria's upgrade materials and some tips on how to collect them.
Rosaria's Launch
"In version 1.4, we'll be adding Rosaria 'Thorny Benevolence' as a new four-star playable character," pens miHoYo's Technical Director, Zhenzhong Yi, on the PlayStation Blog. She will join Xiao and Zhongli as polearm wielders in "Genshin Impact." According to miHoYo, "Her Elemental Burst allows her to attack with a mighty slash, causing massive Cryo damage and summoning a frigid Ice Lance that deals continuous Cryo damage to nearby enemies."
Rosaria Upgrade Materials
Based on the "Genshin Impact" beta server, it requires a lot of materials or items to upgrade Rosaria's talents. This includes Ballad talent books, Insignia-themed items, three Crowns of Insight, and the Shadow of the Warrior. To ascend Rosaria, players need first to unlock her level caps. They also need insignia-themed items and a mix of Shiva jade, Valberries and Hoarfrost Core.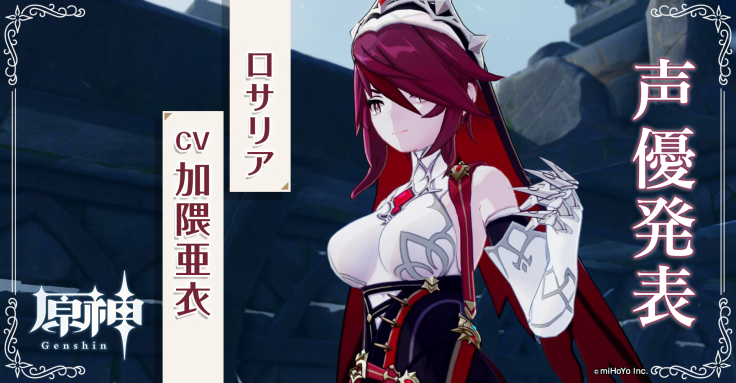 How To Obtain Rosaria's Upgrade Materials
Players can find all three Ballad series as drops from the Forsaken Rift domain in Mondstadt by Springvale. They need to achieve Adventure Rank 27 to access the domain and visit the Rift either on Wednesday, Saturday, or Sunday to avail of the drops. Players need nine Teachings of Ballad, 63 Guides to Ballad and 114 Philosophies of Ballad.
For the Shadow of the Warrior, players need to defeat Tartaglia in the Enter the golden House Trounce Domain, which is available to level 70 and up players. As for insignia-themed items necessary for both talent and ascension, players could obtain them by killing enemies related to the Fatui. Meanwhile, the Crown of Insight could be obtained through events like the Chalk Prince and the Dragon and Unreconciled Stars. Players can also get it by upgrading their Frostbearing Tree to Level 11 in Dragonspine.
"Genshin Impact' update 1.4 goes live on March 17.
© Copyright IBTimes 2023. All rights reserved.