'Genshin Impact': Three Rerun Banners Confirmed For January 2022
KEY POINTS
Xiao, Ganyu and Zhongli will be returning in limited-time character banners next year
Xiao's banner will run simultaneously with Shenhe's
Yun Jin's drop rate will be boosted in the banners of both Xiao and Shenhe
Fans of "Genshin Impact" have plenty to be excited for next year as Patch 2.4 promises to bring three of the game's most popular characters back to the gacha for a limited time.
The first big patch of 2022 will introduce some new story beats, a handful of events and rerun banners for Xiao, Ganyu and Zhongli to complement the release of Shenhe and Yun Jin, as revealed in the recent "Genshin Impact" Special Program.
Patch 2.4's first Event Wish will feature Shenhe together with a separate banner for Xiao. Both 5-star character banners will also have Yun Jin as the featured 4-star where she will have a greatly increased drop rate. These will be followed by two separate banners for Zhongli and Ganyu during the second half of the patch cycle.
Xiao and Ganyu's reruns were previously suggested by leakers in the past, but there was little to no mention of Zhongli's rerun coming earlier than what many players anticipated. Patch 2.4 will be the perfect time for players to roll for their preferred Liyue characters, so try to obtain and save the remaining Primogems from Patch 2.3's events.
All three of the rerun banners feature meta characters who are extremely potent in almost all content the game has to offer.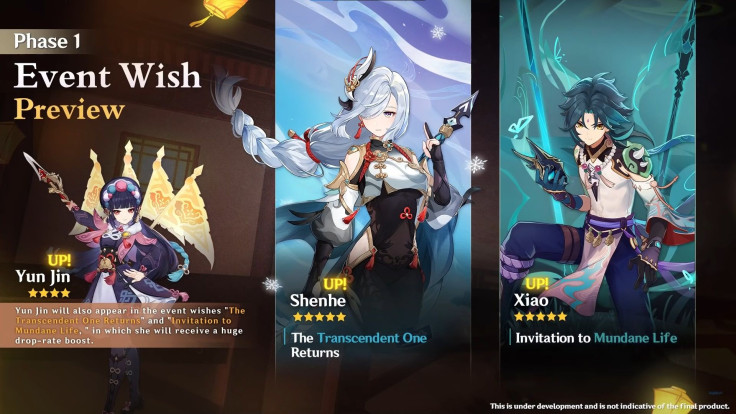 Ganyu remains one of the best DPS characters in the game, thanks to her extreme damage scaling values, high innate CRIT Rate and permafreeze potential. On the other hand, Xiao can dish out some frightening damage numbers within his Elemental Burst's window of opportunity in exchange for a constant drain effect on his HP.
Zhongli starkly contrasts both Xiao and Ganyu as he serves primarily as a Support unit with a nigh-impenetrable shield, constant Geo crystal generation and a strong Burst skill that damages and petrifies all enemies in a fairly large area. These abilities make Zhongli a must-have for anyone looking for an all-around Support character.
Shenhe and Yun Jin might cause some shifts in the meta, especially with their support-oriented abilities that could lead to the rise of other DPS characters.
Patch 2.4 is releasing on Jan. 5, 2022.
© Copyright IBTimes 2023. All rights reserved.