Ghosts Of Civil War: Guatemalan Ex-Dictator Rios Montt On Trial For Genocide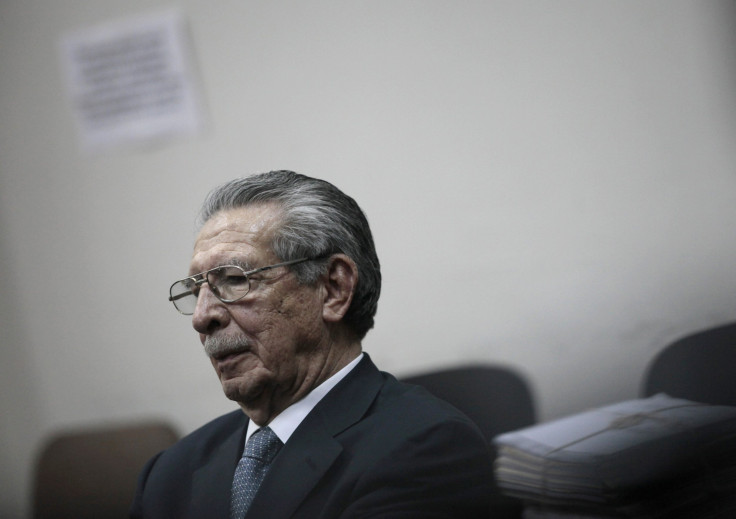 A former dictator that oversaw one of the bloodiest periods of Guatemala's 36-year civil war has been ordered by a judge to stand trial on charges of genocide and crimes against humanity in connection with the massacres of hundreds of civilians by the military during his brief rule from 1982 to 1983.
Jose Efrain Rios Montt, along with Jose Mauricio Rodriguez Sanchez, his intelligence chief at the time, are being called into account for their role in the murder of 1,771 people, most of them members of the indigenous Mayan population, some 30 years ago. The trial is set to begin Wednesday.
The court order marks the first instance of a former head of state being charged with genocide in Latin America and aims to confront Guatemala's traumatic past from which a culture of violence and impunity still lingers today. (Chilean dictator Augusto Pinochet was similarly charged with crimes against humanity but died before he could face justice.)
"The principle function of the state and its officials is to protect its citizens," Judge Miguel Angel Galvez said before examining the evidence and finding it sufficient to bring the case to trial, the New York Times reported.
The civil war, which lasted from 1960 until 1996, was fought primarily between the government and leftist guerilla groups and resulted in the death of more than 200,000 people, some 50,000 of whom forcibly disappeared.
In 1994, A United Nations truth commission found that indigenous peoples accounted for 83 percent of deaths during the armed conflict and that 93 percent of all recorded human rights violations were carried out by the state.
As a part of government policy, soldiers were trained to target civilian populations as a tactic to fight the guerillas, the U.N. Commission for Historical Clarification, or CEH, found in its report.
"Faced with widespread political, socio-economic and cultural opposition, the state resorted to military operations directed toward the physical annihilation or absolute intimidation of this opposition, through a plan of repression carried out mainly by the army and national security forces," the CEH report read.
"On this basis, the CEH explains why the vast majority of the victims of the acts committed by the state were not combatants in guerrilla groups, but civilians," it added.
Montt, 86, was previously protected from prosecution due to his immunity as a congressman, which ended with his term in January 2012.
He currently remains under house arrest while waiting to go to trial.
Prosecutor Orlando Lopez was confident that the evidence against Montt would be enough to go to trial but was uncertain due to the former president's connections within the government.
"Legally, we were certain," Lopez told the Times. "But politically, we considered that it would be difficult because of the circumstances with a former military man in the government."
Human rights groups have hailed the court decision to take the case to trial.
"Until recently, the idea of a Guatemalan general being tried for these heinous crimes seemed utterly impossible," Jose Miguel Vivanco, Americas director at Human Rights Watch, said in a statement. "The fact that a judge has ordered the trial of a former head of state is a remarkable development in a country where impunity for past atrocities has long been the norm."
© Copyright IBTimes 2023. All rights reserved.
FOLLOW MORE IBT NEWS ON THE BELOW CHANNELS