Global Soybean Output Drops, Futures Rise: USDA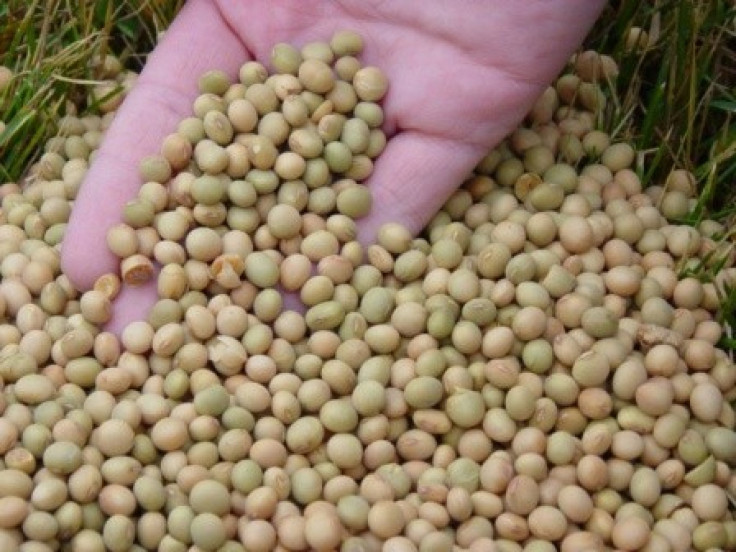 U.S. soybean exports rose 15 million bushels for the 2011/12 crop year and soybean prices are expected to rise, the U.S. Department of Agriculture said Tuesday.
Warm weather and a drought in South America cut soybean production there and contributed to global oil seed production falling 5.2 million tons, the agency said.
As we move through the early spring, and we continue to see the reports of the affects of the drought in Brazil and Argentina, it's not surprising that there's an increase in exports, said Danny Murphy, American Soybean Association first vice president.
The increase in U.S. soybean exports partly offsets reduced export prospects for South America resulting from drought-reduced soybean crops, the USDA report said.
Prices are expected to rise across the board for soybean-based products. The U.S. season-average soybean price is expected to be between $12 and $12.50 a bushel in April compared with $11.40 to $12.60 the month before, while soybean meal prices are expected to rise to $335 to $355 a ton compared with an earlier projection of $310 to $340. The price of soybean oil is also expected to rise to between 52.5 and 54.5 cents per pound from 50.5 to 54.5 cents per pound.
Soybean prices have risen almost 25 percent since the start of the year due to heat and drought that have severely damaged Brazilian crops, the Des Moines Register reported.
Global production of oilseed, which includes soybeans, peanuts and sunflowerseeds, is projected to drop approximately 1.1 percent, or 5.2 million tons, to 440.6 million tons for the 2011/12 crop year, with a large portion of the drop in production coming from Brazil, where soybean production is forecast to fall 2.5 million tons. Global soybean stocks are projected to fall to 55.5 million tons, down 3.1 percent from March.
The USDA projection of global soybean inventories came in slightly higher at 55.5 million tons than the 55.3 million ton consensus of analysts surveyed by Bloomberg.
Brazilian soybean production will fall because of warm temperatures and a lack of rainfall since late February in the southern state of Rio Grande do Sul, the report said. Argentine and Paraguayan soybean production is also expected to fall due to drought.
Soybean production has also fallen recently as some farmers have switched from growing soybeans to growing higher-priced corn. A March 30 report from the USDA projected a decrease of 1 million acres of soybean cultivation in the U.S. as farmers switch to corn, Murphy said. But that may begin to reverse if soybean prices remain high.
We hope that the prices we're seeing now would maybe help buy back some acres from corn, Murphy said. Soybeans are the second most cultivated crop in the U.S. after corn. Some farmers in the southern U.S. may begin to buy back land from cotton cultivation to plant soybeans if the price remains high.
The high prices are good for U.S. soybean farmers, and China is expected to increase soybean imports dramatically this year, according to Murphy.
I think we continue to see exports cointue to grow ... I think that's a sign of a little recovery in the soybean market, Murphy said.
Soybean exports are expected to fall for Argentina, Brazil, Paraguay and Uruguay, while soybean imports are also expected to drop for several nations, including Vietnam, Iran and Mexico.
Soybean futures were up Tuesday, according to the CME Group.
© Copyright IBTimes 2023. All rights reserved.