GMO Labeling Requirements: Brazil Fines Nestle, PepsiCo For Failing To Disclose Genetically Modified Ingredients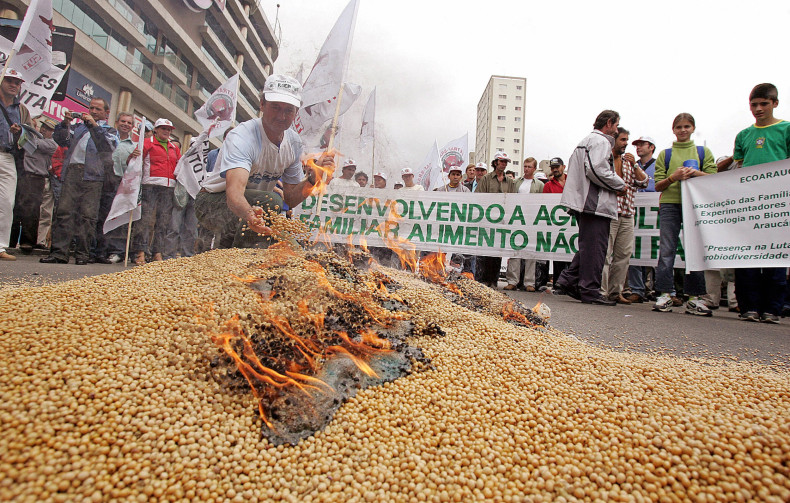 Brazil's Ministry of Justice has fined six global food giants, including Nestlé and PepsiCo, for failing to disclose that their products contained genetically modified organisms, or GMOs, TeleSUR reported Thursday. The fines come during economically and politically turbulent times for Brazil, where embattled President Dilma Rousseff faces impeachment over alleged fiscal irresponsibility and the ongoing recession is projected to become the deepest in more than a century.
The companies that were fined include Nestlé, PepsiCo and Mexican bakery Bimbo, TeleSUR reported. The individual fines ranged from $277,400 to more than $1 million, for a total of roughly $3 million.
The fines came as a result of an inspection in 2010 by Brazil's Consumer Protection Agency which found that products from cake mix to snacks contained GMOs. Under Brazilian law, foods and ingredients must be labeled with the "transgenic" symbol if they contain genetically modified organisms.
By failing to label their products properly, those companies had violated Brazilians' consumer rights, the agency said. The companies have 10 days to file a defense, according to the Ministry of Justice.
GMOs have sparked controversy in countries the world over, from debates over government-mandated labeling in the U.S. to full-out bans on growing them in some European countries. Meanwhile, growing backlash from consumers in the U.S. against GMOs and GMO ingredients has prompted a number of major food and restaurant companies, like Chipotle, to swear off genetically engineered ingredients and products or at least promising to label them.
The debate over genetically engineered foods and their labeling is rooted in the question of what effects or dangers GMOs could pose to human health, with concerns ranging from allergic reactions to genetically altered foods to a loss of nutrition. Scientists have yet to reach a consensus regarding the potential risks of humans eating genetically modified organisms. Popular opinion, meanwhile, shows the majority of Americans are wary of GMOs, even as awareness is lacking. In a survey published in January 2015, the Pew Research Center found that 57 percent of those surveyed said that they thought GMOs were generally unsafe to eat, while 88 percent of scientists surveyed said that GMOs were generally safe.
Campbell Soup Co., which also manufactures Pepperidge Farm cookies and the pasta sauce Prego, announced Thursday it would begin to disclose the use of genetically modified organisms in all of its products in the U.S., with ingredients ranging from genetically engineered soybeans to sugar beets to corn.
PepsiCo is among several companies that have spent millions of dollars lobbying against measures in the U.S. calling for stricter labeling of products that contain GMOs. The first GMO labeling law in the U.S. is slated to go into effect in Vermont in July.
© Copyright IBTimes 2022. All rights reserved.