GMO Chicken: FDA Approves Genetically Modified Hens, But For Medicine, Not Food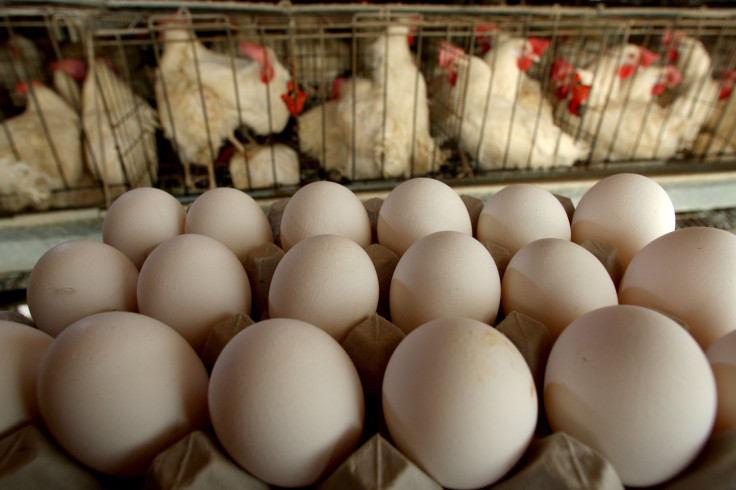 The U.S. Food and Drug administration has approved a genetically modified chicken, but not the variety that Americans will have to worry about finding in the meat aisle of the grocery store. This transgenic chicken, approved Tuesday, produces a medicine in its eggs to treat people with a rare genetic condition and joins a short list of animals that have been genetically modified to produce drugs dubbed "farmaceuticals."
The chicken produces Kanuma, a biologic -- medicine derived from organic material or a living organism (think vaccines, blood products, gene therapy) -- that treats patients with lysosomal acid lilpase deficiency. Also known as Wolman disease, the condition is rare. Fewer than 200,000 people in the U.S. suffer from it, but it is dangerous and for infants, life-threatening. Those afflicted cannot break down fats in certain cells, leading to liver problems and cardiovascular disease. Kanuma is derived from proteins produced in the whites of eggs laid by these genetically modified chickens. The drug is given intravenously to those with the deficiency.
"Using this technology, these patients for the first time ever have access to a treatment that may improve their lives and chances of survival," said Dr. Janet Woodcock, director of the FDA's Center for Drug Evaluation and Research, which tested the drug in several trials that found "a statistically significant improvement" in those treated with Kanuma instead of a placebo. Kanuma is designated as an orphan drug, because it treats a disease that is so rare, and it is the first and only drug so far to treat infants with Wolman disease.
The FDA said Tuesday in a press release the genetically modified chickens did not appear to suffer "adverse outcomes." Alexion Pharmaceuticals, a drug company in Cheshire, Connecticut, that produces Kanuma, had taken "rigorous steps to ensure neither the chickens nor the eggs will enter the food supply," said Bernadette Dunham, director of the FDA's Center for Veterinary Medicine.
Other animals that have undergone genetic modification to produce drugs include a goat, approved by the FDA in 2009.
In November, the FDA approved the first genetically engineered animal for human consumption. The modified salmon can grow to market size in half the time needed by an ordinary salmon.
© Copyright IBTimes 2023. All rights reserved.