Golden State Warriors 2020-2021: Win Total, Championship Odds, Playoff Chances
The Golden State Warriors are among the most interesting teams entering the 2020-21 season. After following up five straight trips to the NBA Finals with the worst record in the league, Steve Kerr's squad has the potential to experience a wide range of outcomes.
Last year was somewhat of a lost season for the Warriors, who saw their roster decimated by free agency and injuries. Kevin Durant left for the Brooklyn Nets. A torn ACL ended Klay Thompson's campaign before it started, and Stephen Curry only played five games because of a broken hand.
With Thompson, Curry and Draymond Green all expected to return healthy, Golden State was thought to be a potential championship contender. That all changed on the night of the NBA Draft when Thompson ruptured his Achilles and was once again lost for the entire season.
Down one Splash Brother, expectations for the Warriors have dramatically changed. Golden State isn't a legitimate threat to dethrone the Los Angeles Lakers in the West but should also be improved from last year's disaster, which saw them lose 77% of their games.
DraftKings Sportsbook gives the Warriors +3000 odds to win the title, putting them 10th in the NBA. Golden State is sandwiched between the Toronto Raptors and Portland Trail Blazers as far as championship contenders are concerned.
The Warriors are slight favorites to reach the playoffs with -162 odds. Golden State has +132 to miss the postseason.
The addition of a play-in tournament gives Golden State some wiggle room in the case that Curry misses time with an injury. The No. 9 and No. 10 seed in each conference can earn a postseason berth by winning two straight games after the regular season has ended.
Each NBA team is scheduled to play 72 games instead of the usual 82 contests. DraftKings gives Golden State an over/under team winning percentage of .545, which equates to about 39 victories.
During their stretch of NBA Finals appearances, the Warriors never had a winning percentage below .695. When Curry made his first playoff appearance with Golden State in 2013, the Warriors had a .573 winning percentage.
Curry has +800 MVP odds, putting him behind only Luka Donic and Giannis Antetokounmpo.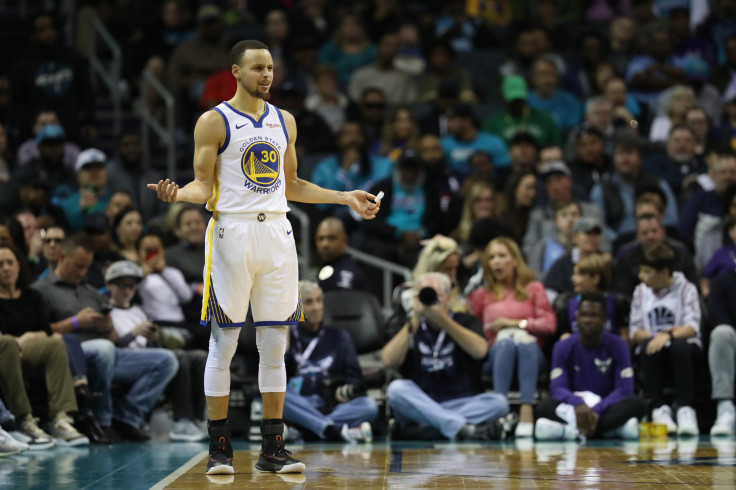 © Copyright IBTimes 2023. All rights reserved.