GOP Debate Drinking Game: Best Rules For CNBC Republican Showdown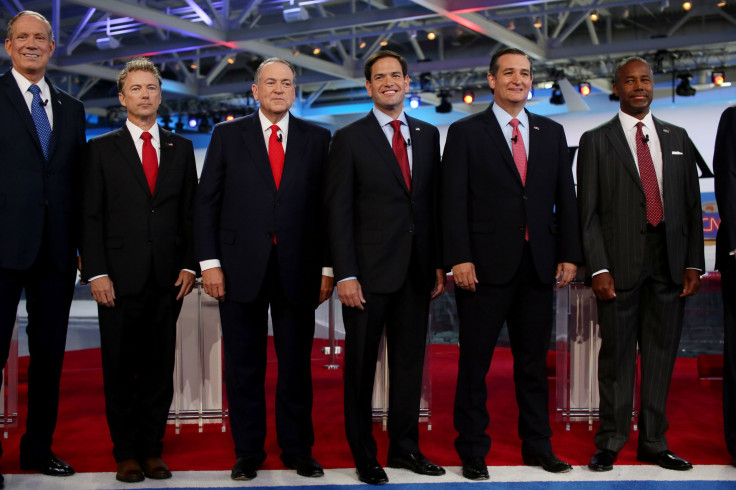 Has your liver recovered from the Oct. 13 Democratic debate? Hopefully, because ready or not, the third Republican showdown is here. By now you know you'll need a little liquid courage to get through two hours of the candidates interrupting and insulting each other. Grab a six pack -- domestic booze only, of course -- and use these drinking game rules to have an entertaining night.
The main debate starts at 8 p.m. EDT on CNBC and lasts two hours, so pace yourself. Listen carefully and imbibe responsibly.
First, pick your candidate. Your choices are billionaire Donald Trump, former neurosurgeon Ben Carson, Florida Sen. Marco Rubio, former Florida Gov. Jeb Bush, former HP CEO Carly Fiorina, Texas Sen. Ted Cruz, former Arkansas Gov. Mike Huckabee, New Jersey Gov. Chris Christie, Ohio Gov. John Kasich and Kentucky Sen. Rand Paul.
Then drink anytime your candidate says one of the following buzzwords, collected from DebateDrinking.com and Slant. This debate is centered around "the key issues that matter to all voters — job growth, taxes, technology, retirement and the health of our national economy," according to CNBC, so pay close attention:
budget
Obamacare
veto
my record
middle class
dollar
China
energy
Baby Boomers
Washington
growth
freedom
energy
Planned Parenthood
taxes
recession
jobs
inflation
my book
And make sure everyone drinks whenever any candidate does any of the following things, per the Sun Times Network:
references Benghazi or Hillary Clinton's emails
compliments Ronald Reagan's presidency
makes a facial expression that will undoubtedly go viral (keep an eye on Fiorina)
tries to talk over the moderator
discusses his or her religion
appears to flip-flop on an issue
complains about not having enough time to talk (a la Democratic candidate Jim Webb)
speaks about Trump's wealth (including Trump himself)
Give up and go to bed if Vice President Joe Biden shows up and announces he's running. (Just kidding.) (Kind of.)
© Copyright IBTimes 2023. All rights reserved.
FOLLOW MORE IBT NEWS ON THE BELOW CHANNELS