GOP Response To Obama Address: Republican Sen. Joni Ernst Takes Aim At Obamacare, 'Executive Overreach'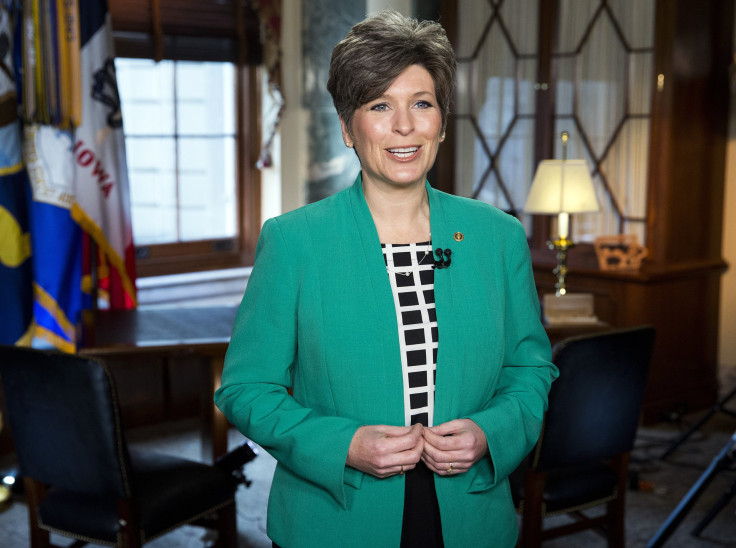 Less than a month into her tenure in Washington, freshman Sen. Joni Ernst, R-Iowa, delivered the GOP response to U.S. President Barack Obama's State of the Union address Tuesday night. Ernst, who defeated four-term Democratic Rep. Bruce Braley for the Senate seat in November, took aim at Obama's signature legislation, the Affordable Care Act, calling it a "failed" policy. She said the new Republican-controlled Congress would "work to change the direction Washington has been taking our country."
"We see our neighbors agonize over stagnant wages and lost jobs," she said. "We see the hurt caused by canceled healthcare plans and higher monthly insurance bills … Americans have been hurting, but when we demanded solutions, too often Washington responded with the same stale mindset that led to failed policies like Obamacare. It's a mindset that gave us political talking points, not serious solutions."
Ernst said Obama should support the Keystone pipeline. She also said the U.S. should "simplify" its "outdated" tax code. "Let's iron out loopholes to lower rates — and create jobs, not pay for more government spending," she said. She said Congress would work to repeal and replace Obamacare and "correct executive overreach."
"Congress is back to work on your behalf, ready to make Washington focus on your concerns again," she said. "We know America faces big challenges. But history has shown there's nothing our nation, and our people, can't accomplish."
Tuesday night's SOTU address was Obama's sixth. Every year, a member of the opposition offers a rebuttal following the president's remarks. Previous GOP speech givers have included Rep. Cathy McMorris Rodgers, R-Wash., in 2014 and Sen. Marco Rubio, R-Florida, whose ill-timed water break made headlines, the previous year.
Ernst, whose Tuesday address was her first major television appearance since being elected, rose from obscurity last year after she caught the GOP's attention with an election's ad featuring talk about "castrating hogs" on her farm as a girl. The ad, which quickly gathered hundreds of thousands of views online, was credited with turning her campaign around.
Prior to her election to the Senate, Ernst served in the Iowa state Senate for three years. She also spent 21 years in the Iowa National Guard and U.S. Army Reserves, making her the first female combat veteran to be elected to the Senate and the first women from Iowa ever elected to Congress.
The GOP announced Ernst's selection to give the response speech last week. "Sen. Ernst brings a unique perspective to the Senate," Senate Majority Leader Mitch McConnell said in a statement. "She is a mother, a soldier and an independent leader who serves in Washington because Americans voted for change in the last election."
In 2013, Ernst voted to amend Iowa law to outlaw abortion by way of fetal personhood, which would have expanded the definition of "right to life" to mean "at any stage of development." Ernst subsequently said she would support such a law at a federal level.
Ernst has also endorsed making English a national language, a stance favored among her Tea Party supporters. In 2007, Ernst sued Iowa's secretary of state for offering voting forms in other languages.
Former Alaska governor and GOP vice presidential nominee Sarah Palin endorsed Ernst last year ahead of her Senate race. "Growing up on a hog farm in Southwest Iowa, Joni has taken her 'pork cutting' skills to the Iowa State Senate, where she has been a champion for life, small government, and lower taxes – voting for the largest tax cut in Iowa history," Palin wrote of Ernst.
© Copyright IBTimes 2022. All rights reserved.
FOLLOW MORE IBT NEWS ON THE BELOW CHANNELS