Governments Back $73B In Overseas Coal Projects Despite Calls To Curb CO2 Emissions: Report
Governments and global financial institutions are backing billions of dollars in overseas coal projects, despite calls to curb the world's harmful greenhouse gas emissions. Financial support for coal mines and power plants is undermining the global effort to tackle climate change, environmental groups said Tuesday.
Nations, public credit agencies and international development banks financed more than $73 billion in coal-related projects in other countries from 2007 to 2014, a new report found. The money largely includes support for export projects, development aid and general financing. It does not include support for domestic coal development.
The projects have added half a billion tons of new carbon dioxide emissions each year -- equal to the annual carbon pollution of Italy, the world's 20th-largest climate-change polluter.
"These publicly financed dirty energy projects are taking the world in the exact opposite direction from where we need to go to solve the growing climate crisis and protect future generations," Jake Schmidt, the international program director at the Natural Resources Defense Council, said in a statement.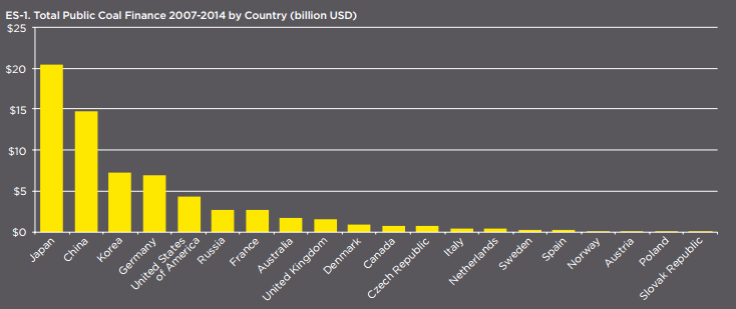 NRDC, Oil Change International and the World Wide Fund for Nature co-authored the Tuesday report, which gathered data on dozens of countries and international financial institutions. The groups said the $73 billion figure is a conservative finding, given that governments don't always openly report their backing of coal-related developments.
The United States in particular has awarded at least $4.4 billion in funding for coal projects through the U.S. Export-Import Bank and multilateral development banks. Most of that money went toward new and existing coal-fired power plants, though some helped back coal mines and power plant emission control operations.
Still, the groups praised the United States for its efforts to reduce public funding for overseas coal projects. Following calls by President Barack Obama, the Export-Import Bank in December 2013 adopted guidelines that largely prevent financing unless a plant will use carbon capture and storage, a costly and difficult technology that only a few plants use today. The bank's funding for coal projects fell to $20 million in 2014, from $500 million in 2013, the report found.
Coal industry supporters oppose these cuts, arguing that governments should invest more in coal projects in developing countries. More than 1 billion people have no access to electricity, and coal offers a cheap and reliable way to turn the lights on and heat homes. "Access to electricity fuels progress and drives health and longevity," Peabody Energy Corp., the world's largest private-sector coal company, said on its website. "Greater use of coal … is a major part of this solution."
The U.S. is the fifth-largest backer of global coal projects. Japan, the top supporter, backed more than $20 billion in projects from 2007 to 2014. China and South Korea financed $14.8 billion and $7.3 billion in coal development, respectively, while Germany backed $6.8 billion in projects.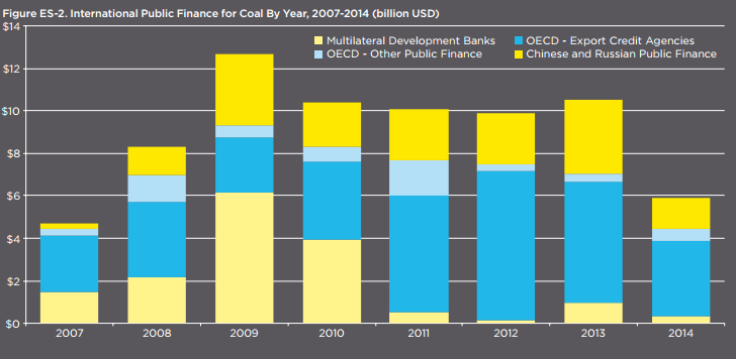 Even as global coal development continues, the U.S. industry itself is shrinking. Coal producers say they are scaling back operations and laying off thousands of workers due to fierce competition from natural gas, falling coal prices and tougher power plant regulations.
Coal prices have dropped over 15 percent in the past 12 months to below those of natural gas. Coal-fired power plants will account for just 36 percent of total U.S. electricity generation this year, down from 49 percent in 2007, the U.S. Energy Information Administration estimated.
Murray Energy Corp. said last month it would lay off 1,800 workers -- about 21 percent of its workforce -- at its mines in West Virginia and Ohio due to tough market conditions. Alpha Natural Resources Inc. said in February it will reduce costs by up to $75 million in 2015. "We have dealt with reality as it is, as opposed to the way we wish it were," Kevin Crutchfield, Alpha's chairman and CEO, told investors earlier this year. "We may still have a little bit more work to do."
© Copyright IBTimes 2023. All rights reserved.
FOLLOW MORE IBT NEWS ON THE BELOW CHANNELS