Greece On Edge Of Precipice As Parties Bicker In Athens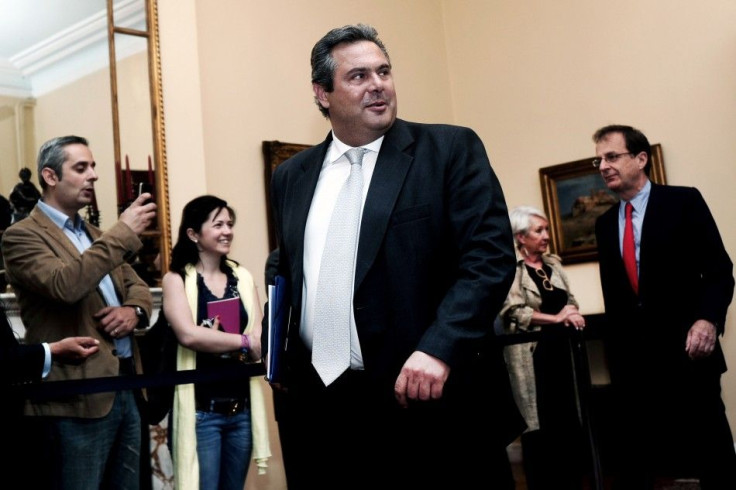 The president of Greece is again meeting with political party leaders in a last-ditch effort to hammer out a new coalition government to prevent the country from defaulting on its debt and exiting the euro zone.
More than one week after parliamentary elections resulted in no single party with any majority -- which, in turn, led to three straight failed attempts by various party bosses at finding a unity government -- Greece finds itself on the precipice of a financial collapse which could trigger problems across Europe.
The only two parties that advocate maintaining strict austerity measures to reduce the country's debt – the conservative New Democracy (ND) and the Socialist Pasok party – did not win enough votes in the recent election to form any coalition without the support of other parties. Leftist parties, including Syriza, which finished in second place in the election, are adamantly opposed to austerity and the huge bailout loans Greece received from the European Union and International Monetary Fund.
Greece's President Karolos Papoulias on Monday suggested he may propose a government led by non-politician technocrats with broad national appeal, somewhat similar to what Italy adopted with Prime Minister Mario Monti.
This proposal, however, has already been flatly rejected by the head of Syriza, Alexis Tsipras.
We will attend the [next] meeting [with Papoulias]. But we are sticking to our position. We don't want to consent to any kind of bailout policies, even if they are implemented by non-political personalities, said Syriza spokesman Panos Skourletis.
Tsipras has repeatedly scuttled efforts to find a compromise on the austerity program – a sentiment seemingly shared by the majority of the Greek public, who, according to polls, would give Syriza the most votes in the event of another election.
Other leaders also were also less than enthused with the idea of a technocrat-led government.
"The effort to form a government is continuing," ND leader Antonis Samaras told Greek media.
"It needs to have the broadest possible support. It is not so important who the personalities are but which parties support the government."
Evangelos Venizelos, the heads of Pasok and former finance minister, was also less than sanguine about the idea.
"Under normal circumstances, governments of technocrats or personalities are not formed," he said. "But when we are faced with such a crisis, such a deadlock, parliamentary support for such a government must be as broad as possible."
Venizelos added: "Things are very difficult. I'm not optimistic.
Fotis Kouvelis, the boss of the moderate Democrat Left, also expressed his reservations about the technocrat option.
I told the president that a government by technocrats or personalities would suggest the failure of politics, and raised my objection, he said.
Papoulias on Tuesday is meeting with Tsipras, Samaras, Venizelos, Kouvelis, and Panos Kammenos, the chief of Independent Greeks, a nationalist party. Kammenos had not previously been a prominent figure in coalition talks.
Kouvelis, who earlier had suggested he might be amenable to a coalition government, backtracked by asserting that no new administration would be legitimate without the participation of Syriza.
Syriza seems to be agitating for a new election, which would have to be called by the president in mid-June. Such an event would no doubt enrage the EU, especially Germany, which have warned Athens it must adhere to austerity and bailout agreements.
At a meeting in Brussels, euro group president Jean-Claude Juncker again threw down the gauntlet.
The Greek government would have to make clear it is fully committed to the program, and then if there were exceptional circumstances we wouldn't exclude discussing this issue, he said.
Anyway, there wouldn't be any substantive changes involved.
Juncker, however, said he was strongly opposed to Greece leaving the currency bloc.
I don't envisage, not for one second, Greece leaving the euro area. This is nonsense. This is propaganda, he declared.
Yet, other EU officials have already indicated that an exit from the euro zone may be in the cards for Greece.
We wish Greece will remain in the euro and we hope Greece will remain in the euro ... but it must respect its commitments, said European Commission spokeswoman, Pia Ahrenkilde Hansen, in Brussels.
Greece has its future in its own hands and it is really up to Greece to see what the response should be.
Mark Lowen, a BBC correspondent in Athens, commented: "Greece's wait goes on. ... If these last-ditch talks fail, Greece will face fresh elections, prolonged political instability and possibly a slide towards an exit from the euro. Greece's president appears determined to try everything he can to avoid it."
© Copyright IBTimes 2023. All rights reserved.