Greece Names Caretaker Cabinet Ahead Of Next Round Of Elections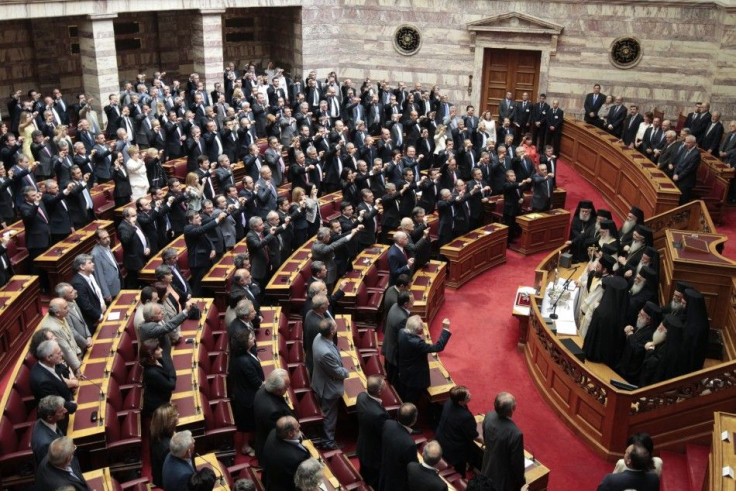 Greece's caretaker government named a cabinet that will run the country ahead of a new round of elections next month, following repeated failures by various political parties to agree upon a unity government in the wake of a fractious parliamentary poll in early May.
Greek president Karolos Papoulias on Wednesday appointed senior judge Panagiotis Pikrammenos as prime minister of the interim government.
The cabinet, which will only carry out administrative functions, is primarily composed of academics, former ministers and diplomats, including Giorgos Zannias, an economist and university professor, who will serve as finance minister. Zannias was formerly an economic adviser to the Athens government.
Other cabinet members include Petros Molyviatis, a former foreign minister, who will reprise that same role. Yiannis Stournaras, chief of the think tank, Foundation for Economic and Industrial Research, will serve as development minister and economist, Napoleon Maraveyias, was appointed Agricultural Development Minister.
As Greeks prepare to vote on June 17, there is some concern another poll will again fail to give any one party a majority of votes.
The far-left Syriza party, which vehemently opposes the terms attached to the €240 billion ($304.5 billion) of bailout agreements that Greece signed with the European Union and International Monetary Fund, is expected to win the next poll -- however, with only 20 percent of the total vote count. That would mean yet another round of coalition talks between the top parties.
Meanwhile, fears are escalating across Europe that Greece will have to exit the euro zone – a scenario that would incur massive costs to the rest of the continent, but especially to Germany and France, which hold significant amounts of Greek debt.
Greeks have been withdrawing their savings from banks in a panic – Reuters estimates that almost one-third of deposits have been taken out in the first quarter of this year alone.
Alexis Tsipras, the head of Syriza, said he wants Greece to stay in the euro zone, but after renegotiating terms of the bailout pacts.
Our choice is to stay in Europe without austerity policies," he told BBC, on Wednesday.
We are in favor of the euro without the austerity that is destroying it. We are convinced that if the austerity policies continue then the euro zone will be destroyed.
Other voices are sounding alarm bells.
Antonis Samaras, the chief of the New Democracy (ND) party, who has repeatedly clashed with Tsipras, told reporters: Two courses lie ahead ... either to change everything in Greece -- with changes which can be carried out in a Europe that is also changing -- or to experience the terror of an exit from the euro, the terror of isolation outside Europe and the collapse of all we have built so far."
Some experts, however, say a Greek exit would ultimately benefit both Greece and the rest of Europe.
Hans-Werner Sinn, head of the Munich-based Ifo institute, told the Rheinische Post, The Greeks must give up the euro as quickly as possible and reinstate the drachma."
© Copyright IBTimes 2023. All rights reserved.