Greece Nazi Occupation: Athens Metro Screens Show Film Demanding German Reparations For World War II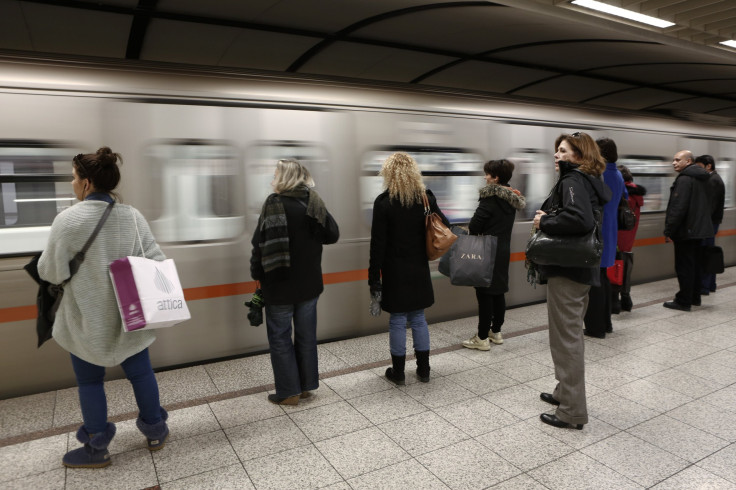 Screens in Athens' metro stations that generally provide weather forecasts have now been used to show controversial contents, including a government-backed film demanding World War II reparations from Germany. Greece's deputy finance minister recently said that Germany owed the country nearly 279 billion euros ($313 billion) in war reparations for the Nazi occupation during World War II.
The 50-second short film, featuring footage from the Nazi occupation, has been broadcasted in 35 metro stations in Athens since the end of April, as the Greek government pushes for war damages from Germany, the Agence France-Presse (AFP) reported.
"The Ministry of Defense in March met organizations working on the issue of World War II remembrance and German reparations to encourage initiatives to promote the subject, and the idea for this short was born," Markos Charitos, a member of the newly formed reparations committee, told AFP.
The film begins with images of German planes flying over the Parthenon, and the words "World War II, resistance, we do not forget." It also shows several black and white photos of the occupation from 1941, followed by a series of demands, including the reparation of losses, repayment of debts and compensation for victims. The film also demands the return of archaeological treasures.
Speaking at parliamentary committee in April, Greece's Deputy Finance Minister Dimitris Mardas said that Berlin owed Athens 278.7 billion euros as per the calculations by the country's General Accounting Office.
Meanwhile, Germany has repeatedly rejected Greece's claims, arguing that the issue was resolved by an agreement, which was signed in 1990 between Germany and the allies, including Greece. The German government also called the Greek claim "dumb" as the latter linked the issue of war reparations with austerity measures imposed by the European Union and International Monetary Fund, in exchange for bailout funds totaling 240 billion euros ($269 billion).
"To be honest I think it's dumb," BBC quoted German Economy Minister Sigmar Gabriel as saying. "I think that it doesn't move us forward one millimeter on the question of stabilizing Greece."
© Copyright IBTimes 2022. All rights reserved.
FOLLOW MORE IBT NEWS ON THE BELOW CHANNELS