Greek Bailout Impasse Dominates Trade In U.S. Risky Assets: Daily Markets Wrap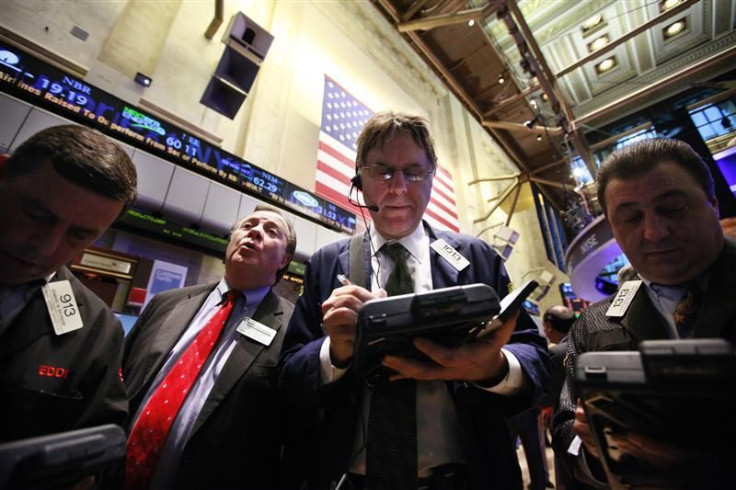 A political impasse over a new bailout for Greece dominated the tone of trading in risky assets Monday, as U.S. investors -- whose attention had been on U.S. economic developments the previous week -- once again focused on the Continent. Contentious negotiations between the Greek political establishment and various supranational institutions expected to provide the country with emergency funding brought the most pessimistic of predictions to the forefront once again.
The euro, oil futures and equities all fell on views that the deteriorating situation in Europe might hamper the slowly recovering global economy in the near future. Safe-haven investments in U.S. Treasuries rallied.
Here's a look at how markets fared:
Stocks. The benchmark Dow Jones Industrial Average closed at 12,845.13, down 17.10 or 13 basis points. The wider S&P 500 Index was essentially unchanged, down four basis points to 1,344.33. Most sectors were down slightly, with some momentum in the defensive healthcare sector.
Bonds. U.S. Treasuries rose as investors flocked to safe-haven assets. The benchmark 10-year Treasury notes saw yields, which move against price, go down to 1.91 percent. Yields on 30-year bonds fell to 3.10 percent. The rally in government notes took place in spite of the fact the government will conduct quarterly re-funding operations this week, which are normally preceded by a wave of selling.
Commodities. Industrial and precious metals fell. Crude oil prices declined more than one percent, and copper futures dropped to about $3.86 per pound. Gold prices were off, while silver managed to end the day roughly unchanged. Platinum and palladium settled lower.
Foreign Exchange. The euro fell sharply against the U.S. dollar, the Swiss franc and Japan's yen. The Dollar Index, which gauges the greenback against a basket of major currencies, was slightly higher. Russia's ruble gained, as did Mexico's peso. Several Latin American currencies fell, including Brazil's real and Colombia's peso, as did Turkey's lira, the Australian dollar and South Africa's rand.
© Copyright IBTimes 2023. All rights reserved.
FOLLOW MORE IBT NEWS ON THE BELOW CHANNELS