Greek Debt Crisis 2015: Tourism Sector Remains Stable Despite Greece's Economic Woes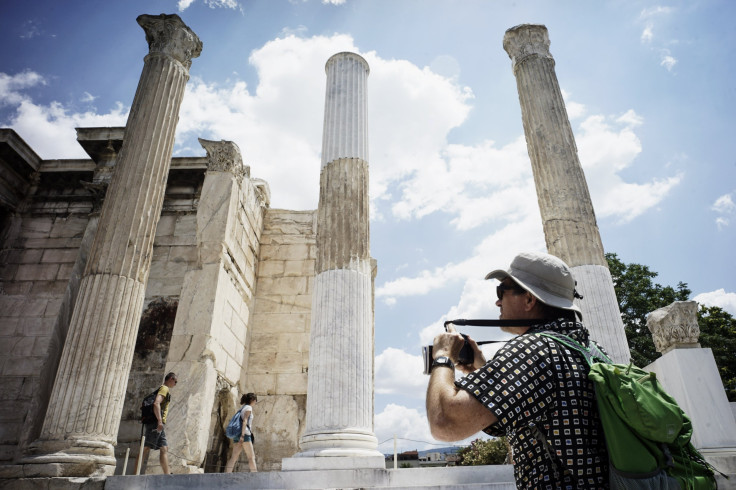 As word broke Tuesday of hopes that a deal over Greece's debt crisis was "closer," the vacationers there who were likely sipping on sweet, fruity Apollo cocktails while basking on the white sands of Plaka Beach and staring into its sparkling turquoise waters probably hadn't the faintest clue – or care – about the latest on the Mediterranean country's economic woes. While Greece continues to seek a way to avoid a total financial collapse and repay the hundreds of billions of euros it was loaned to pay off its debts, there was at least one sector of its economy that managed to remain flourishing: the tourism industry.
Tourists have been seemingly unaffected by the country's current economic turmoil despite the fear of local banks shutting down because of a lack of funds. Even following a negative growth in four out of five years between 2008 and 2012, Greece's visitor exports grew in both 2013 and 2014, according to a report by the World Travel and Tourism Council (WTTC), a forum for business leaders in the travel and tourism industry. As Greece plummeted into an economic crisis, tourists increased their spending in a country that desperately needs it. Underscoring that point, the WTTC ranked Greece 33 out of 184 countries for their forecast for visitor export growth in 2015.
For many tourists, the idea of contributing to the Greek economy seems like the perfect excuse for a vacation there. Meaghan Pollard, a tourist currently in Greece, said she feels better about her "out of control" spending habits considering the circumstances.
Simos Bakas, product manager of Best of Greece, a company that specializes in selling Greek vacation packages, shared Pollard's sentiments and said many hotels there were increasingly all booked up. "Currently at tourism hotels, it is difficult to find availability," Bakas said. "I haven't seen any downturn; I think there has been a willingness to travel to Greece because people want to help the Greek economy."
Greek GDP Growth Over Time | FindTheData
WTTC predicted that travel and tourism's contribution to Greece's overall GDP would grow by 3.2 percent in 2015, which is below the global average growth but still ahead of several competitor destinations around the Mediterranean including France, Turkey, Egypt and Portugal. The value of tourists in Greece is clear, as the number of foreigners visiting its cities, ports and islands rose from 17.9 million in 2013 to well over 22 million last year, and revenues from tourism grew over 10 percent to almost $15 billion, according to Fortune.
Travelers were also booking local tours at high rates this summer season, according to Sara Cooke, director of communications at ToursbyLocals, a company that connects travelers with local tour guides worldwide. There has even been an uptick in reservations for the 2015 summer season in comparison to 2014. "We've seen an increase of 28 percent for the first five months of 2015 compared to the first five months of 2014," Cooke said. "That being said, we've seen an average sales increase of 40 percent over all our tour areas, worldwide, so our Greece bookings are slightly behind on the growth curve. But not in any way that elicits concern."
Numerous tourism companies in Greece said tours, hotels and vacation packages had not been affected by the country's economic deterioration, and representatives from Princess Cruises and Royal Caribbean said that their cruise lines will continue with their stops at Greek ports as planned. One reason might be because many of the most popular tourist destinations in Greece happen to be away from the mainland.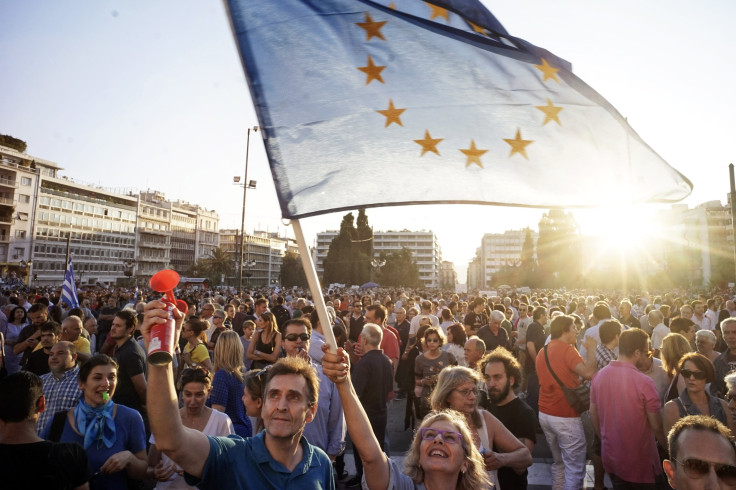 "We have not seen a downturn in booking reservations because we are Greek island specialists, so we are generally unaffected," Lucy Cooke, an employee at Islands of Greece, a British-based holiday operator that specializes in Greek islands, said. The islands were also "not affected much" after the 2008 rioting over the death of a local teenager at the hands of police, showing it would take more than a national and political tragedy to keep vacationers from flocking to Greece.
Greece's infrastructure also runs the risk of not being able to keep up with the high demand for tourism. In February when Greece was teetering on the edge of bankruptcy, the country struck a deal with European officials to extend their bailout program. However, that bailout program is coming to an end just in time for peak tourist season. Currently, Greece is trying to strike a deal to pay back approximated 240 euros to creditors and finance government operations, according to the Guardian.
Pollard, the American currently vacationing in Greece, said she had been aware of the country's debt situation but had yet to be directly affected by it. "There seems to be a lot of unfinished construction that is not being completed, possibly due to economy, other than that I haven't seen any change in business practices."
© Copyright IBTimes 2023. All rights reserved.
FOLLOW MORE IBT NEWS ON THE BELOW CHANNELS