Greek Debt Crisis: Parliament Approves New Bailout Deal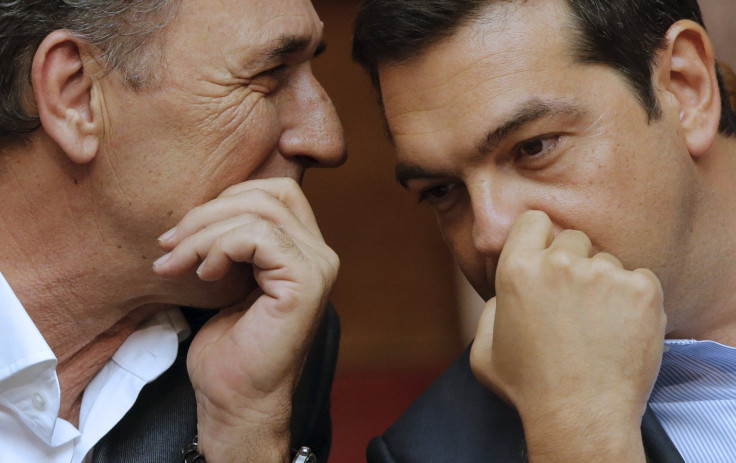 Following an all-night debate, the Greek parliament on Friday approved a new bailout agreement that would require the government to implement tax rises and spending cuts in return for funds worth 85 billion euros ($94 billion) from its international creditors.
Attention now shifts to a meeting between eurozone finance ministers in Brussels later today where a decision would be taken on whether to grant Greece the bailout money. With the ruling Syriza party heading for a split over the aid program, Greek Prime Minister Alexis Tsipras needed the support of the opposition to win parliament's backing for the bill.
Former finance minister Yannis Varoufakis, who had earlier resigned over the harsh terms of the bailout deal, also voted against the bill, along with a large number of Syriza rebels, who reportedly accused Tsipras of betraying his earlier promises. The leftist Syriza party came to power in elections last year on an anti-austerity platform.
According to latest reports, Tsipras managed to win the backing of 222 lawmakers -- crossing the 151-vote threshold needed in the 300-seat chamber to pass the bill.
Growing rebellion within Tsipras' Syriza party has pushed the coalition government to the brink of snap elections. According to some estimates, of the 222 lawmakers who backed the new bailout deal Friday, only 118 were from Syriza -- two fewer than needed for the prime minister to maintain his majority. Several previously loyal members abstained from voting Friday, the Guardian reported.
"New Democracy giving the government a vote of confidence? There is no chance of that," lawmaker Makis Voridis said, after parliament approved the latest bailout bill, Reuters reported.
Panagiotis Lafazanis, a Syriza lawmaker, told Tsipras: "I feel ashamed for you. We no longer have a democracy, but a eurozone dictatorship," the BBC reported.
Tsipras will now face a vote of confidence, expected to be held after Aug. 20. If he loses the confidence vote, it could trigger snap elections -- an eventuality that might jeopardize the the debt-riddled nation's aid program.
If the bill wins the approval of the eurozone finance ministers, it would then need to be ratified by national parliaments of several countries, including Germany, before funds are given to Greece to allow it to make a crucial 3.4 billion euros ($3.7 billion) payment to the European Central Bank (ECB) by an Aug. 20 deadline.
"I have my conscience clear that it is the best we could achieve under the current balance of power in Europe, under conditions of economic and financial asphyxiation imposed upon us," Tsipras told Greek lawmakers, according to the BBC.
© Copyright IBTimes 2023. All rights reserved.