Greek Elections: Syriza Victory Could Rally Anti-Austerity Groups In Ireland, Italy and Spain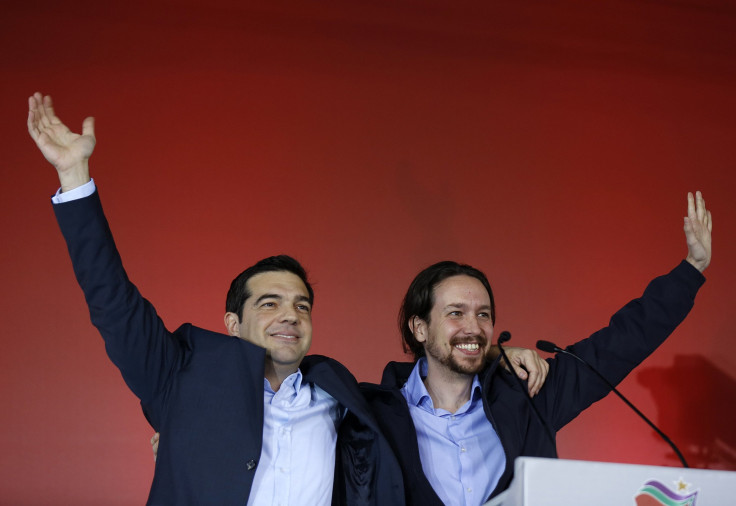 Greece's extreme left-wing Syriza party appears poised to win the largest share of seats in legislative elections Sunday in a closely watched political battle that could energize other grass-roots anti-austerity movements in European Union states battered by years of steep government budget cuts. Syriza's plans to restructure or abandon Greece's bailout terms with Europe's central lenders in Germany and other EU giants, or even abandon the EU altogether instead of continue with austerity measures, could further destabilize Europe's vulnerable financial markets amid high unemployment and a sinking euro.
Among those keeping an eye on Greece's elections are anti-austerity parties in Spain, Ireland and Italy. Pablo Inglesias, the leader of Spain's left-wing Podemos party, or the We Can party, joined Syriza leader Alexis Tsipras on stage in Athens for the latter's main election speech on Thursday night. Syriza had a 6.7 lead over rival New Democracy on Friday, indicating it would take roughly 33.4 percent of the seats in the new Greek parliament. Its popularity is partly driven by an unemployment rate of 26 percent, the highest within the European Union.
Austerity measures were taken on by Greece, Spain, Ireland and other financially strapped countries as conditions for loans from the International Monetary Fund, European Council and European Central Bank, known as the "troika," after the 2008 global economic downturn. As part of the debt deal, each state was required to cut public costs by billions of euros. They cut public salaries, laid off thousands of workers, did away with pensions, slashed education funding and raised taxes, measures that were all hugely unpopular among the working class.
Mainstream parties in the Greek parliament fought bitterly over the bailout terms. In 2011, Prime Minister George Papandreou had to reshuffle the government in an attempt to get support for a bailout agreement. Sunday's election is the second time early elections had to be called since then because of a failure to form a government.
Many anti-austerity advocates argue that austerity slows growth and only serves to put countries in debt. The IMF, European Commission and European Central Bank, however, said Spain, Greece, Portugal and other struggling European Union members wasted billions of euros on inefficient government programs and needed to be streamlined.
Critics counter that austerity has not been good for growth. "The longer younger people are out of a job, the more permanently they'll be scarred by that period of unemployment," said Jacob Kirkegaard, a research fellow at the Peterson Institute for International Economics in Washington, D.C. "That's increasingly being recognized, perhaps too little too late."
But Syriza's plans to cut away from the troika loans isn't much better because it could result in the Greek government running out of cash as soon as by June, Kirkegaard said. He predicted a Syriza victory would sink other anti-austerity parties across Europe if party leaders are unable to successfully manage Greece.
"If Syriza wins, either they make a policy U-turn [and work with the troika], or they do not and they fail," he said. "If there's no deal with the troika, there will be new deterioration and Syriza will be kicked out of office. None of these two scenarios are particularly good news for the anti-austerity, non-mainstream parties in other countries."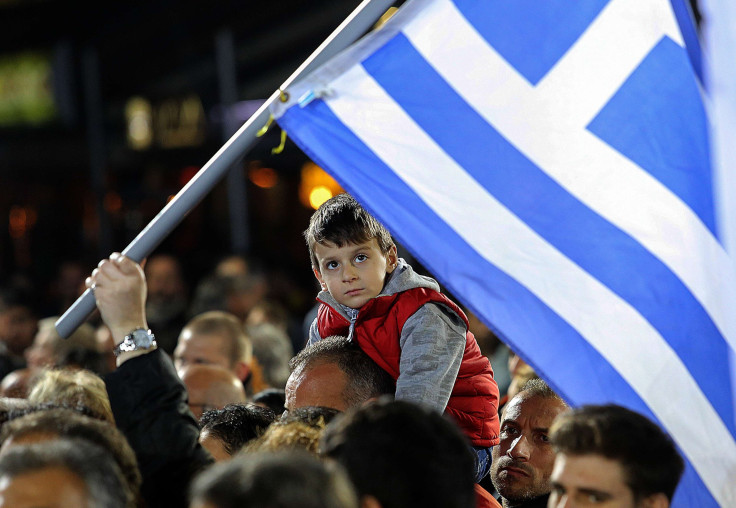 Spain, Ireland and Italy will also hold elections over the next two years. In Spain, anti-austerity advocates, many of whom come from the country's struggling population of young, unemployed workers, have similar gripes as some Greeks after years of austerity measures: too much corruption and not enough support for working-class people.
Podemos was founded in Jan. 2014 and has since won over roughly a quarter of all Spanish voters, according to a December poll. Spain holds general elections in Dec. 2015 and is battling a 24 percent unemployment rate, second only to Greece within the European Union.
In Ireland, the Anti-Austerity Alliance won 14 of 949 local government seats in the 2009 local elections, right at the height of the European debt crisis, but austerity measures like last year's planned water tax have since sparked anti-government protests across the country. Around 100,000 people, or 2 percent of the Irish population, marched in protest against the water tax bill in December, Jacobin Magazine reported.
Paul Murphy, the only sitting Irish parliament member for Ireland's Anti-Austerity Alliance, planned to travel to Greece this weekend to watch the elections and support Syriza. The water tax represents a larger dissatisfaction among demonstrators over Irish austerity measures, Murphy said.
"It's quite natural that Greece is the first place that the left is coming up to potentially form a government," he said. "An election is not going to solve the problem overnight, but it's the first step in a different type of struggle and a conversation about whether the left can radically change political society and have socialist change."
Wider debt concerns have bubbled up from within mainstream Irish parties, as well. Sinn Fein, the leading Irish left party, called for the Irish government to support a Syriza-led, EU-wide conference on debt management. The Irish Taoiseach, or prime minister, rejected the call. Sinn Fein also called for an election this year to replace the pro-austerity government. "After six years of austerity, if it was ever seriously about creating economic recovery, it's clearly failed," Murphy said.
Italy has struggled with its own massive unemployment and financial woes. Voters there will also be watching the Greek elections "with strong interest," according to Struggles In Italy, a political blog based in Italy. Italian leftist parties such as Rifondazione Comunista and the Left Ecology Freedom are "trying to ride on the coattails of Syriza's success" to gain support, according to the blog.
"Greece, in the eyes of many, is where Italy is heading: widespread poverty, lack of healthcare, widespread and unsolvable unemployment," a representative for the blog said.
© Copyright IBTimes 2023. All rights reserved.