Greek Trade Officials Pine For Investors At New York Conference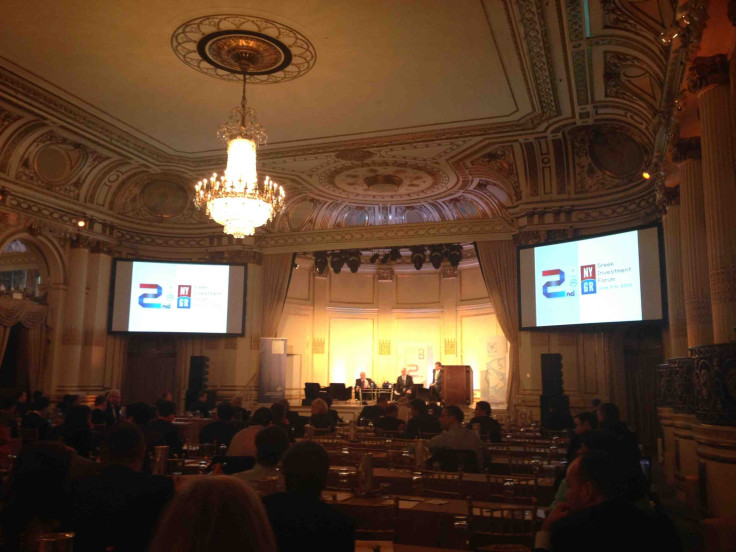 Greek trade officials pined for foreign investment at a forum in Manhattan's Plaza hotel on Wednesday, just weeks after the debt-choked country's credit rating was upgraded amid huge budget cuts.
Yanos Gramatidis, the president of the American-Hellenic Chamber of Commerce, said that Greece has emerged from the last four years of economic tumult as a ripe place for investment, as spending is consolidated and recovery could be looming next year.
"Today I can say with confidence, not simply with hope, that Greece has changed, that Greece is a great place to invest, that you should not pass up this opportunity," he said, speaking to an audience of about 100 in the gilded ballroom of the Plaza's third floor.
Christos Staikouras, Greece's alternate minister of finance, boasted that Greece is slated to have the largest primary budget surplus in the European Union this year, of 0.4 percent of annual economic output. It is the first such surplus in a decade.
"Greek citizens have made huge sacrifices to achieve painful, but necessary, consolidation," Staikouras said. "[Now,] we need your help, we need your support, but we also need your participation. This is the right time to invest in Greece."
Last month, Fitch Ratings upgraded Greece to B- from C as the country began to show signs of rebalancing.
One worrying economic sign in Greece is its rising unemployment rates.
But Michael Massourakis, the senior manager of economic research at Alpha Bank, said the labor market has become more "flexible" as part-time work has become more available. He brushed off the rise in first-time unemployment rates, saying young people and women are just now entering the market.
"We have been a very good student," he said. "We deserve the gain in confidence the economy is enjoying now."
© Copyright IBTimes 2023. All rights reserved.