Greek Unions Strike Over Austerity Plans: Eurozone in Jeopardy?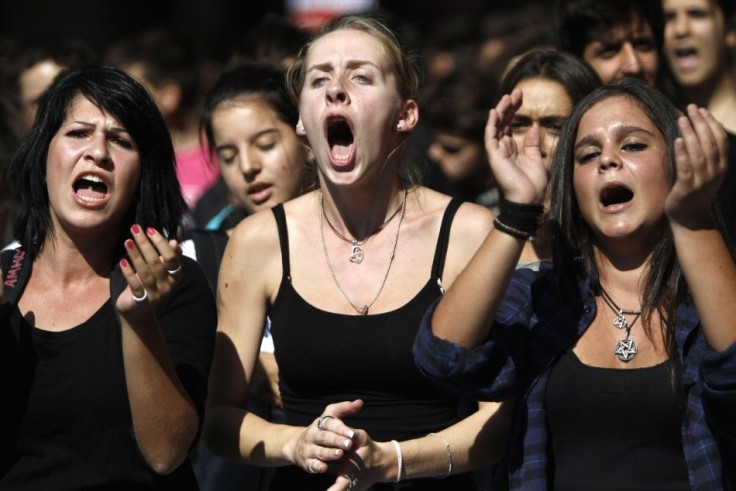 Some 16,000 workers in Greece are in the midst of a 24-hour labor strike to protest the country's austerity package.
Organized by Greece's largest unions, the strike and demonstration in Athens have shut down airports and ferry lines and closed schools, government offices and tourist sites.
The Greek government's austerity measures are meant to cut the country's deficit. The cuts are necessary if Greece is to receive the latest bailout payments from the European Union and avoid a default by mid-October.
With this strike, the government, the EU and the IMF will be forced to reconsider these disastrous policies, Stathis Anestis, a spokesman for Greece's main union GSEE, told the BBC.
The austerity measures could include massive public sector layoffs, and up to 200,000 people may find themselves without jobs soon. This could save Greece an annual 6.3 billion euros ($8.4 billion), but it's clearly an unpopular idea.
The government is panicking and has no strategy, Thessaloniki port union member Fani Gourgouri told Reuters. These measures are only extending poverty. We'd be willing to shoulder the cost and say 'yes' to austerity if they proceeded with reforms that would create jobs instead of cutting them.
The strike on Wednesday, like nearly all the public demonstrations in Greece, hasn't been a tidy one -- and stone-throwing anarchic youths were met by tear gas and police batons.
There have been demonstrations all across the country since May, although the current wave of social unrest started in the spring of 2010. Last March, thousands of Greeks took to the streets to rally against a similar austerity proposal. Like the demonstrations in the capital Wednesday, a mass of students and youthful rioters broke store windows, burned cars and threw rocks and Molotov cocktails at the Greek police.
After a year of debt troubles, Greece's economic outlook has only worsened. The country's failure to slash its deficit puts a 109 billion euro ($145 million) bailout package from the European Union in jeopardy, and EU banks are waiting until November to approve the next multi-billion euro loan installment.
The problems in Greece stem from years of accumulated debt, which, by 2008, totaled more than the county's entire gross domestic product. A Greek default is an international problem that could drastically impact an already struggling Eurozone.
Banks holding Greek debt are watching the strike with a keen eye. Moody's on Tuesday already downgraded Italy's credit rating from Aa2 to A2, citing a lack of confidence in Eurozone governments to restart economic growth.
© Copyright IBTimes 2023. All rights reserved.