Haiti Hurricane Update: Is Matthew Worse Than 2010 Earthquake? Death Toll Surpasses 1,000 Amid Cholera Fears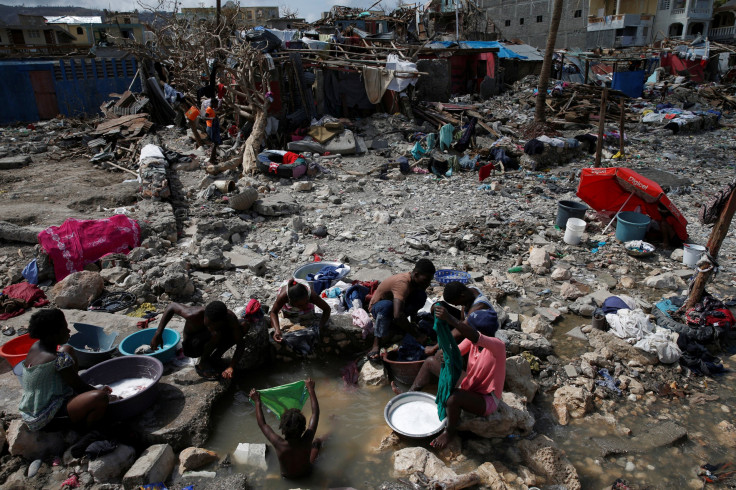 Hurricane Matthew left more than 1,000 people dead and thousands more displaced after it swept through Haiti last week, but the worst may be yet to come. The poorest nation in the western hemisphere now faces famine in its already drought-ravaged land and fears of diseases like cholera, similar to the outbreak it saw just six years ago.
Haiti alone already accounts for 96 percent of cholera cases reported in the Americas, the World Health Organization noted in a statement released last month. In 2010, a cholera outbreak swept through the country after a 7.0 magnitude earthquake struck, causing massive devastation.
Cholera thrives in such devastating conditions, breeding bacteria in unsanitary water that can cause vomiting, diarrhea and potentially deadly dehydration when ingested. More than 4,500 people died from cholera in Haiti after the earthquake.
Last week's hurricane caused similarly disastrous conditions in the country. Stagnant water, decimated supplies and mass graves make another cholera outbreak almost inevitable.
Only 55 percent of Haiti has access to filtered water and 70 percent of the country does not have access to water that is safe to drink, leaving people to often resort to gathering water from garbage filled rivers, according to The Water Project. An estimated 54 percent of the population lives on less than one U.S. dollar per day.
Aside from cholera, polluted water can cause dysentery, hepatitis, malaria and other life threatening illnesses.
On top of Haiti's lack of water access, many of the 1,000 dead are being buried in mass graves, according to Reuters. Mass graves enable the swift spread of disease. "The use of common graves should be avoided at all costs," the Pan American Health Organization announced in a statement about the management of corpses in disaster situations.
Hurricane Matthew caused extensive damage to agricultural infrastructure in Haiti, destroying irrigation systems for drainage and crop losses. The country was already in the midst of severe famine caused by drier than usual El Nino conditions that led officials to declare a state of national emergency.
© Copyright IBTimes 2023. All rights reserved.
FOLLOW MORE IBT NEWS ON THE BELOW CHANNELS