Hamas Announces Creation Of 'Popular Army' Amid Mounting Tensions In West Bank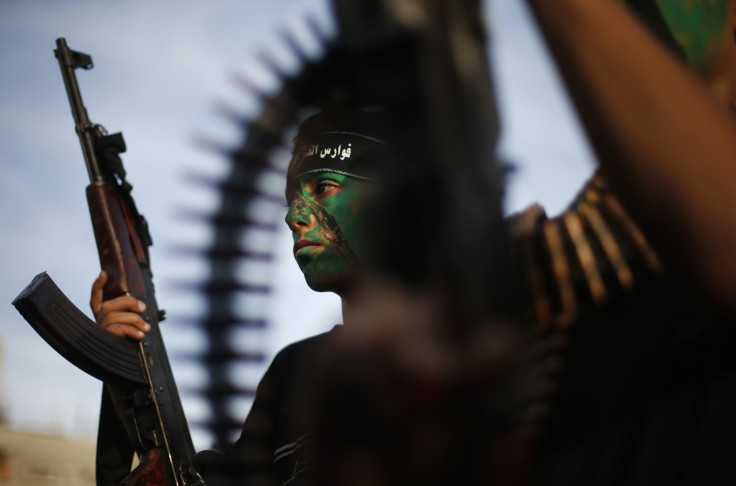 Hamas, the Islamist group that controls the Gaza Strip, announced the creation of a 'popular army' on Friday, to prepare itself for future conflicts with Israel, according to media reports. The announcement came just hours after senior officials from Fatah -- Palestinian President's Mahmoud Abbas' political party -- accused Hamas of being behind several near-simultaneous blasts targeting the houses and cars of Fatah members in Gaza City.
A spokesperson for the al-Qassam Brigades, the military wing of Hamas, reportedly said during a ceremony at the Jabaliya refugee camp in northern Gaza that the army, which would consist of 2,500 recruits, would be "the first section of the popular army for the liberation of Al-Aqsa and of Palestine," adding that anyone over the age of 20 years could sign up.
Mohammed Abu Askar, a Hamas official, said that the creation of the army comes "at a moment when the Al-Aqsa mosque is subject to serious Israeli violations," referring to ongoing clashes between Palestinian protesters and Israeli security forces in East Jerusalem.
Tensions in East Jerusalem and other towns of the Occupied West Bank have been running high in recent weeks, with several incidents of violence being reported in the region. For weeks, there have been daily clashes in East Jerusalem, triggered by fears that Israel was attempting to change the status quo and allow Jews to pray at Temple Mount, which is the holiest site in Judaism.
The ongoing conflict over the status of the Al-Aqsa and Temple Mount compound has also increased tensions between Israel and Jordan, which is the custodian of the Al-Aqsa mosque, according to media reports.
The latest announcement by Hamas is likely to further increase tensions in the strife-torn Gaza Strip, which has only just started to recover from a recently concluded 50-day long war that left over 2,100 Palestinians and over 70 Israelis dead. Hundreds of thousands of civilians were also displaced after their houses were destroyed in the conflict between Hamas and the Israeli military.
Egypt-mediated peace talks between Palestinians and Israelis, which were scheduled to begin in Cairo last month, were postponed after attacks on Egyptian security forces in the Sinai Peninsula left over 30 soldiers dead. Egyptian authorities blamed "Palestinian elements" of being behind the attacks and alleged that Hamas was providing aid to Sinai-based militant groups, including the Ansar Bayt al-Maqdis, which has carried out several attacks on Egyptian security forces in the past.
© Copyright IBTimes 2023. All rights reserved.