Israel Went To 'Extraordinary Lengths' To Minimize Civilian Casualties During Gaza War: Gen. Dempsey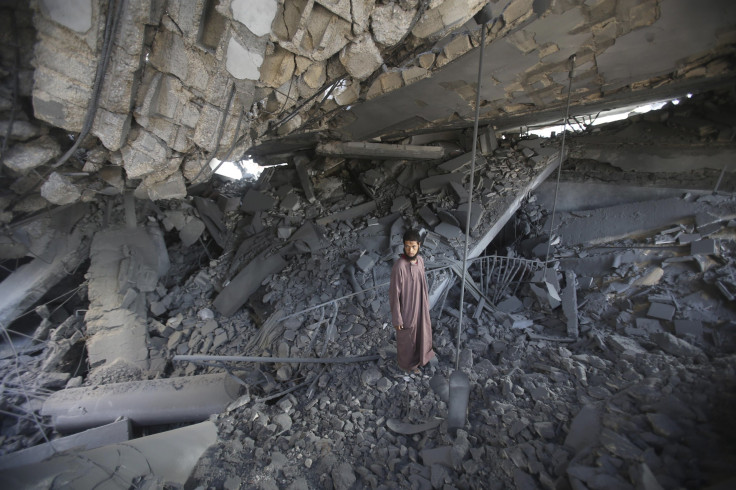 Just a day after Amnesty International accused the Israeli military of committing war crimes and showing "callous indifference" to the deaths of civilians during the recently concluded Operation Protective Edge in the Gaza Strip, U.S. Gen. Martin Dempsey, chairman of the Joint Chiefs of Staff, praised Israel's conduct during the 50-day war, according to media reports.
"I actually do think that Israel went to extraordinary lengths to limit collateral damage and civilian casualties," Dempsey reportedly said, when asked about the ethical implications of Israel's handling of the Gaza war, during an event at the Carnegie Council for Ethics in International Affairs in New York on Thursday. "In this kind of conflict, where you are held to a standard that your enemy is not held to, you're going to be criticized for civilian casualties."
Dempsey also said that the Pentagon had sent a team to see what lessons could be learned from the way the Israeli military campaign was carried out, according to media reports.
During the 50-day war, nearly 2,200 Palestinians, mostly civilians, were killed, according to estimates from the United Nations and several international aid agencies. Israel, which lost 66 soldiers in the conflict, faced severe criticism for the high civilian death toll during the war, including from the White House and the U.N.
Amnesty International, in a report released Wednesday, said that its investigations had exposed "a pattern of attacks on civilian homes by Israeli forces which have shown a shocking disregard for the lives of Palestinian civilians, who were given no warning and had no chance to flee."
Dempsey, however, reportedly said that the Israeli military "is not interested in creating civilian casualties. They're interested in stopping the shooting of rockets and missiles out of the Gaza Strip and into Israel." He added that the civilian casualties were "tragic, but I think the IDF (Israel Defense Forces) did what they could to avoid them."
Meanwhile, a series of blasts were reported from Gaza City early on Friday. The near simultaneous blasts reportedly targeted the houses of senior members of Fatah, Palestinian President Mahmoud Abbas' political party.
Although no one was injured in the explosions and no group has so far claimed responsibility for the attacks, the incident has the potential to deepen animosity between Fatah and Hamas, which controls the Gaza Strip. The two rival political parties had recently pledged to work toward reconciliation during a cabinet meeting held in Gaza last month.
© Copyright IBTimes 2023. All rights reserved.