Hamas Funded Murder Of Israeli Teenagers Says Palestinian Arrested By Israel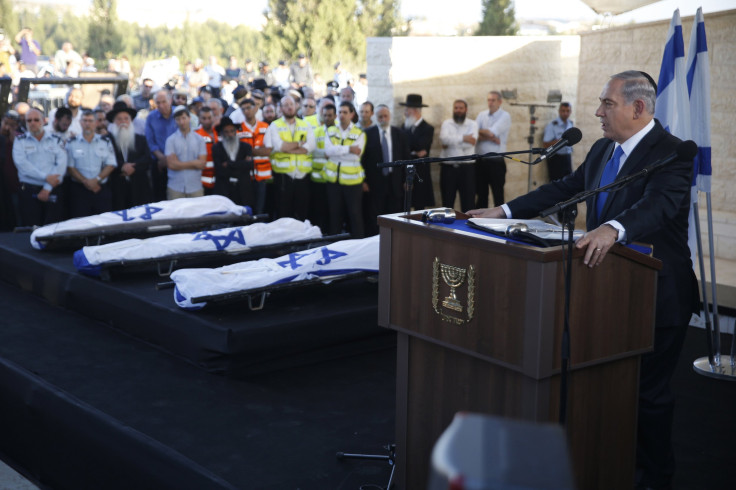 An Israeli anti-terrorism unit arrested a Palestinian man who confessed to receiving funds from a Hamas wing within Gaza to help carry out the abduction and murder of three Israeli teenagers in June, according to court documents made public on Wednesday. The kidnappings and murder of the teenagers triggered Israel's latest offensive in the Gaza Strip.
Hussam Qawasmeh, a resident of Hebron in the West Bank, reportedly admitted to helping plan the abductions and helping bury the teenagers' bodies in a plot of land he owned, the Telegraph reported Wednesday. Israel, which launched Operation Protective Edge on July 8 in retaliation, has maintained that Hamas is responsible for the murders, but this is the first time that the group's ties to the crime have been connected by a confession.
Qawasmeh, 40, was arrested after an anti-terrorism unit received a tip-off from the Shabbak security services in the Shuafat neighborhood of East Jerusalem on July 11, an Israeli police spokesperson reportedly said. And, documents submitted to an Israeli court defending a demolition order on his family home in Hebron reportedly revealed details of his arrest.
Hamas' political leadership has denied any involvement in the teenagers' kidnapping and murders, but Izz ad-Din al-Qassam Brigades, the military wing of Hamas that Qawasmeh reportedly has ties to, operates independently. An elite Palestinian clan based out of Hebron -- the Qawasmeh family -- has up to 17,000 members with some serving as officials in Fatah while others have links to Hamas, the Telegraph reported.
Yuval Diskin, the former head of Shin Bet, Israel's internal security organization, told Der Spiegel, a German newspaper, in a recent interview that he believed that Hamas' political bureau was "taken by surprise" with the abductions, adding that "it seems as though it was not coordinated or directed by them."
Israel launched an attack on Hamas in the West Bank before the teens' bodies were found, with rocket and missile fire being exchanged in the span of a few days, followed by intense Israeli aerial bombing of Gaza and a ground invasion termed Operation Protective Edge, which was launched with the aim of destroying Hamas' leadership and its network of tunnels and rocket launchers. Hamas retaliated with more than 3,000 rockets forcing many Israelis to seek protection.
The operation resulted in the deaths of at least 1,800 Palestinians, 64 Israeli soldiers, two civilians and one Thai national. After worldwide condemnation of the loss to civilian life, the attacks were called off Tuesday and both sides agreed to a 72-hour cease-fire. And, on Wednesday, Israel said it was willing to extend the cease-fire beyond Friday to discuss a long-term solution to end the conflict in Gaza.
United Nations Secretary-General, Ban Ki-Moon had earlier said that "the horror that was unleashed on the people of Gaza" during the Israeli military operation could be a violation of international law.
© Copyright IBTimes 2023. All rights reserved.