Harvard And Yale Game Will Decide Ivy League Champion And Likely Feature New Pranks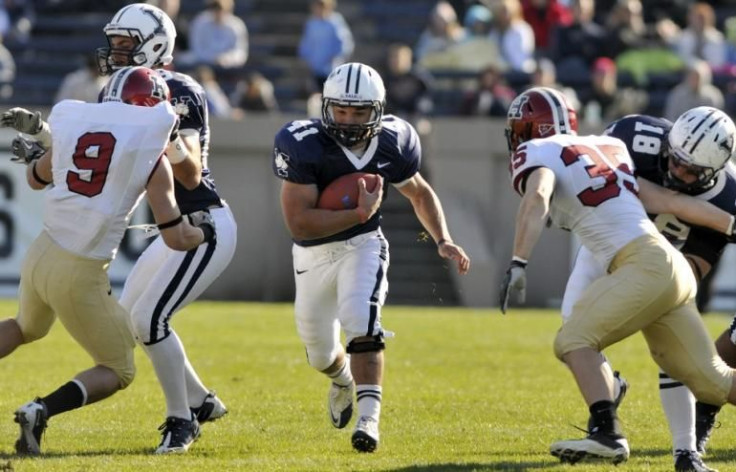 Harvard and Yale have played one another in football more than 100 times. Yale leads the all-time series with 65 wins to Harvard's 57, and there have been eight ties. The two schools, with just one loss between them this season, will square off for the Ivy League title Saturday.
Harvard is riding a seven-game winning streak against its archrival, and is looking to notch its 17th undefeated season, coming into the game with a 9-0 record. The Crimson have already guaranteed themselves at least a share of the Ivy League crown, but a loss to Yale means they would be sharing it with the Bulldogs. It would be Yale's first conference championship since 2006, as reported by the Associated Press.
The contest is so big that ESPN's flagship "College GameDay" program is in Cambridge, Mass., this weekend to cover The Game. It is only the second time in the program's 28-year history that Chris Fowler, Lee Corso, Kirk Herbstreit and the rest of the "College GameDay" crew will be on site at a Harvard game.
While ESPN was on campus, it's NBC that has the game. The game will kick off on the NBC Sports Network Saturday at 12:30 p.m. EST.
The Game is always an event in Cambridge and New Haven, Conn., but this year the nation is tuning in to see the two schools that are typically more known for their Nobel laureates than for their football prowess.
"For sure, it's the biggest game I've seen against Yale," Obum Obukwelu told ESPN this week. "My brothers went here, the games they played against Yale weren't of this magnitude. They're 8-1, we're 9-0, playing for a title. It doesn't get much bigger than that. "And with all the ESPN 'College GameDay' stuff, it just hypes it up even more."
In recent years, pranks have become as large a part of the game as the action on the field. Yale's prank in 2004 where students got Harvard fans to hold up placards around the stadium that spelled "We suck" while Yale students filmed them has become the stuff of legend, and pranks since then have only helped grow the rivalry, as noted by the University Herald.
Because The Game will decide the Ivy League championship this year, it's about more than just pride and pranks.
© Copyright IBTimes 2023. All rights reserved.