Hatch Forced Into Primary At Utah GOP Convention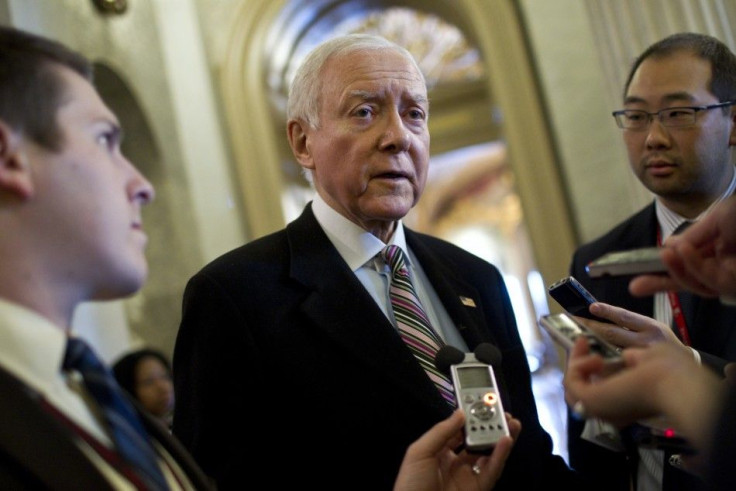 Veteran U.S. Senator Orrin Hatch of Utah will face a Republican primary fight after delegates to a party convention on Saturday denied him the nomination, forcing him into an election with a Tea Party-backed challenger who finished second.
Hatch, 78, won the day over nine challengers, but narrowly fell short of reaching the 60 percent of the vote needed in a pairing against his number two challenger, Dan Liljenquist, to win the nomination outright and avoid the primary, Reuters reported.
Heavily Republican Utah last elected a Democrat to the U.S. Senate more than four decades ago, so the Republican nominee is usually considered the presumptive winner of the general election.
The nominating convention held in Sandy, Utah, marked a test for the continuing strength of Tea Party activists, who played a decisive role nationally in the 2010 mid-term elections and helped unseat then-Republican Senator Bob Bennett of Utah.
In a final delegate vote on Saturday, Hatch took 59.2 percent of the votes to 40.8 percent for Liljenquist, a former state senator with a Tea Party following.
Hatch was only 32 delegates short of getting the required 60 percent vote that would have allowed him to avoid a primary contest. A total of 3,908 delegates participated. In the first round, eight challengers were eliminated.
Hatch told reporters afterward he was upbeat about the results and expected to win the June 26 Republican primary.
I consider it a tremendous victory, considering what has happened in the past, and what we've had to do, Hatch said.
Without naming names, Hatch also denounced what he called the ultra-liars, who he said had distorted his record.
We've got outside groups coming in here that are just vicious and awful and they don't tell the truth, he said. Utah is not going to put up with that.
At the convention, Liljenquist told the delegates, No one senator is too big to fail, the New York Times reported.
Hatch fired back, speaking last before the voting began. He said that experience and the respect of both sides is what gets things done in Washington, not wild claims and promises.
I'm a tough old bird, he said. I've never felt more eager, more excited, or more energized. During his second speech, before the second round of voting, his voice cracked with emotion. I need you, he told the delegates.
Hatch, 78, is a senior stalwart of the Republican's mainstream branch and was first elected to the U.S. Senate in 1976, which is also when he last competed in a primary. He is seeking a seventh term, which he promises will be his last.
Liljenquist, 37, once worked as a consultant in the Dallas office of Bain & Company, the same private equity and consulting firm Mitt Romney, the leading Republican presidential candidate, once ran. Liljenquist highlighted his corporate background in remarks to reporters on Saturday. But Romney is backing Hatch.
For a long, long time Senator Hatch has been all we've known, Liljenquist said. People are looking for leadership, passion and change.
My background is corporate turnaround, he added. If there was ever a time for a corporate turnaround team to go to Washington, it's now.
Liljenquist and state Representative Chris Herrod, another leading candidate before his elimination on Saturday, gained a Tea Party following for campaign rhetoric focused on such conservative themes as lowering taxes and bringing fresh ideas to the Washington establishment.
Hatch has spent $5.7 million this election cycle, while Liljenquist's expenditures total just over $227,000, Federal Election Commission records show.
Hatch is the ranking Republican Party member of the Senate Committee on Finance.
In remarks before the delegates on Saturday, Hatch launched a hard line conservative attack against President Barack Obama. Let me tell you: Barack Obama's only been president for about a thousand days but he's already set our country back about a hundred years, Hatch said.
In another race, Gov. Gary Herbert, who drew some opposition from conservatives this year for vetoing a bill to curb sex education in schools, avoided a primary challenge on Saturday when he got 63 percent of the second delegate vote at the convention.
Bennett, the former U.S. senator, overcame some of the rejection fellow Republicans dealt him in 2010, when on Saturday he received a standing ovation at the convention as he accepted an award on stage.
The Utah Republican Party convention held on Saturday in Sandy, a Salt Lake City suburb, is part of an unusual electoral system in the state.
Voters first participate in a caucus, which was held last month, to chose delegates for the convention, and a primary is held only if a runoff is needed between the two leading candidates, unlike in other states where a primary is always the means of choosing a candidate.
(Writing by Alex Dobuzinskis; editing by Todd Eastham)
FOLLOW MORE IBT NEWS ON THE BELOW CHANNELS