Heat Wave 2021: Extreme Weather Kills 63 In Oregon, 486 In British Columbia
KEY POINTS
The extreme weather has killed at least 549 people in the US and Canada
In British Columbia, 486 people died between Friday and Wednesday afternoon
A study published in May attributed heat-related deaths to climate change
Nearly 550 people have died in the last several days as a heatwave slams the Pacific Northwest and Canada.
At least 63 people have died in Oregon since Friday, including 45 who lived in Multnomah County. Many of the deceased, whose ages ranged from 44 to 97, were also "found alone without air condition or a fan," the state's medical officer told NBC News.
In Multnomah County, people died from hyperthermia. In comparison, only 12 people died from hyperthermia in Oregon between 2017 and 2019.
"This was a true health crisis that has underscored how deadly an extreme heat wave can be,'' Jennifer Vines, health officer for Multnomah County, told The Wall Street Journal. "As our summers continue to get warmer, I suspect we will face this kind of event again."
On Sunday, June 27, Portland's temperature reached 112 degrees. On Monday, the temperature hit a record high of 115 degrees, and increased to 116 degrees in Salem on Tuesday, according to the National Weather Service.
In British Columbia, a province in Canada, at least 486 people died between Friday and Wednesday afternoon. Deaths are expected to increase significantly as the extreme weather drags on, British Columbia's chief coroner Lisa Lapointe told The New York Times.
On Tuesday, weather officials in British Columbia recorded a temperature of 121 degrees. It was the third consecutive day that the province broke its extreme heat record.
In Vancouverites, a city in British Columbia, some people were able to fry eggs on their terraces due to the extreme heat. Others checked in to air-conditioned hotels to escape the heat.
A study published in the journal Nature Climate Change on May 31 found that at least 37% of heat-related deaths could be linked to the effects of climate change. The research was conducted by 70 researchers using data and climate modeling from over 40 countries.
Experts say global warming has raised the baseline temperature by nearly two degrees Fahrenheit since 1900.
In an earlier study, researchers also attributed heat-related death to heat waves and warm seasons linked to climate change.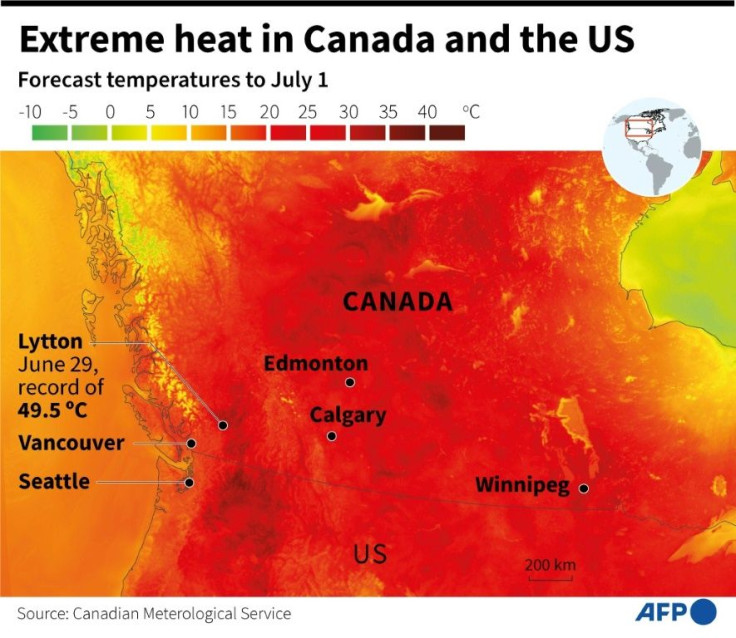 © Copyright IBTimes 2023. All rights reserved.
FOLLOW MORE IBT NEWS ON THE BELOW CHANNELS