Hell Hath No Fury: France's Former First Lady Valerie Trierweiler In India, As Francois Hollande Dumps Her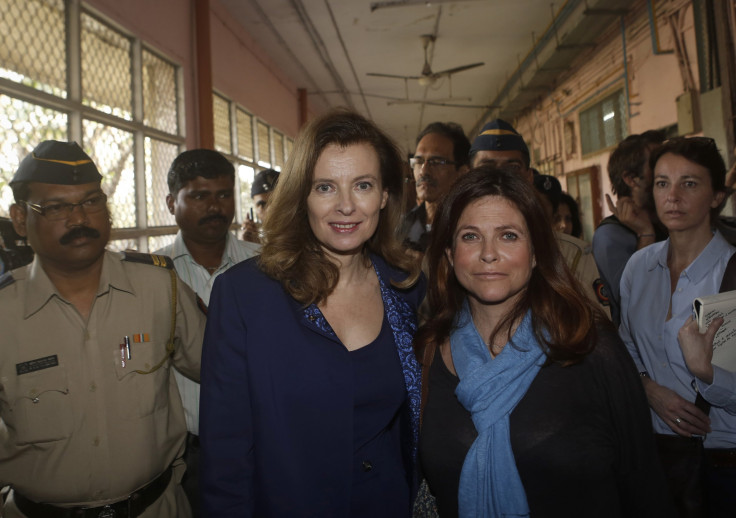 Valerie Trierweiler, the woman who has just been relieved of her duties as France's first lady, is visiting India as part of a campaign to highlight issues of malnutrition and hunger on the subcontinent. Agence France Presse reported that when Trierweiler arrived at the airport in Mumbai on Sunday, she ignored a gathering of more than four dozen media personnel awaiting her and went to a private car that took her to a luxury Taj Mahal Palacehotel. Interestingly, AFP noted that she was accompanied by a presidential bodyguard, although she is no longer on the French government's payroll. "She is on good terms with the president [Francois Hollande] and she is better," a source told AFP.
On Saturday, one day ahead of Trierweiler's arrival in India, French President Hollande confirmed their breakup (they were not married).
Trierweiler's trip was organized and financed by Action Against Hunger, a French aid organization, and planned well ahead of her celebrated fissure with Hollande, who has apparently moved onto actress Julie Gayet. "[The trip is] a way of showing that she [Trierweiler] is attached to humanitarian causes and that she will continue to take an interest in them, whatever happens in the days that come," an unnamed friend of Trierweiler's told Le Parisien newspaper prior to her departure.
Indian media reported that Trierweiler visited with children in the pediatric ward of a public hospital in Mumbai and also spoke to mothers about the importance of good nutrition. By cuddling and kissing babies in the hospital, Trierweiler made her first public appearance in several weeks since the sex scandal erupted in Paris. Prior to arriving in India, she was hospitalized in France after learning of Hollande's infidelity. "I cannot stand that these children have fewer chances than others," Trierweiler said in French in Mumbai. "We should give the same chances to all. We have [here] children who suffer from malnutrition. That is why I am here today."
Trierweiler subsequently posted a photo on her Twitter account depicting a mother and child with a caption that read: "Alongside ACF (Action Against Hunger) in India to fight malnutrition. A child dies of hunger every 30 seconds." Associated Press reported that she did not make any comments regarding her now-fractured relationship with Hollande. However, she praised her former staff at the Elysee Palace, the presidential residence in Paris, for their "devotion." At the end of her two-day trip, she will attend a charity gala dinner at the Taj hotel.
Once she returns to France, she will have no official role at all in the government or presidential palace. Trierweiler's chief of staff, Patrice Biancone, told AP that her office as first lady will be eliminated on Wednesday. "These last few days have been difficult. But today, she is serene," he said. Hugh Schofield, a BBC correspondent in Paris, commented that the Hollande-Trierweiler split ends a "remarkable emotional saga that has captivated the French -- and the world -- for the last two weeks." "What happens now?" Schofield rhetorically asked. "Well, the president has not said it publicly, but his entourage have passed on the message: for the time being there will be no replacement for the ex-first lady. Indeed, Mr. Hollande is said to regret ever elevating Ms. Trierweiler to the position in the first place, as her unease in the role clearly posed problems from the start."
James Shields, professor of French politics and modern history at Aston University in the U.K., commented that in France, the media continue to treat the Hollande-Trierweiler-Gayet saga as a "private affair, showing amazing coyness and restraint by Anglo-Saxon standards." Shields cited a poll by BVA that showed 75 percent of the French public approved Hollande's refusal to answer questions about his relations with either woman. "[The] discussion has moved this week to the broader question of whether France should have a 'first lady,' which is a copy in any case of the American model, not a constitutional status," Shields added. Indeed, another BVA poll showed a clear majority (54 percent) saying the practice of having a first lady should be discontinued with all its privileges and allowances.
Douglas Yates, assistant professor of political science at the American University of Paris and professor at the American Graduate School in Paris, said he thinks that the French public has "empathy" for Trierweiler, but not necessarily sympathy. "I do not see her disappearing from the very small world of the Parisian press, at any rate," he said. Nonetheless, Trierweiler remains a highly unpopular figure in France, ironically joining Hollande in his distinction of being the most unpopular president.
Shields added that he thinks once she returns home, Trierweiler will maintain her high-profile glamorous public life as a journalist for Paris Match magazine. "She may keep up some of her charity work," he noted. "Most likely though, she will be sought by the media for her insights into life with the president -- and that will be a test both of the media's continuing restraint and of her own personal discretion."
Regarding Gayet, Schofield conjectured that "maybe she will become an acknowledged part of his life, but without any official role and certainly not moving into the Elysee. Perhaps at some point she will start being seen with him, and accompanying him on trips."
© Copyright IBTimes 2023. All rights reserved.